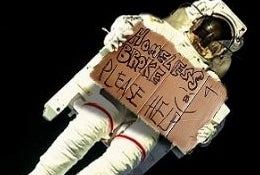 Obviously the new international TV trope is going to be the sci-fi sitcom. We've already told you about Boldly Going Nowhere, the new show from the creators of It's Always Sunny In Philadelphia, but now Spain's RTVE channel La 2 is getting in on the act with a new show called Pluton BRB Nero, set five hundred years in the future. But don't expect The Jetsons In Barcelona just yet.
The new show - being put together by Spanish filmmaker Alex de la Iglesia - focuses on space marines in the year 2530, searching for a new planet to live on now that the Earth is so overcrowded with buildings that there's no space for people anymore. De la Iglesia promises that, despite the set-up, laughs should be expected:
This is a crazy comedy with quite wild humor.
"Quite wild" and "crazy" may be code for old school; the show will, according to Variety, take its comedy cues from shows like The Young Ones and Soap. If nothing else, it still sounds funnier than Two And A Half Men...
De la Iglesia heads for 'Pluton' [Variety]