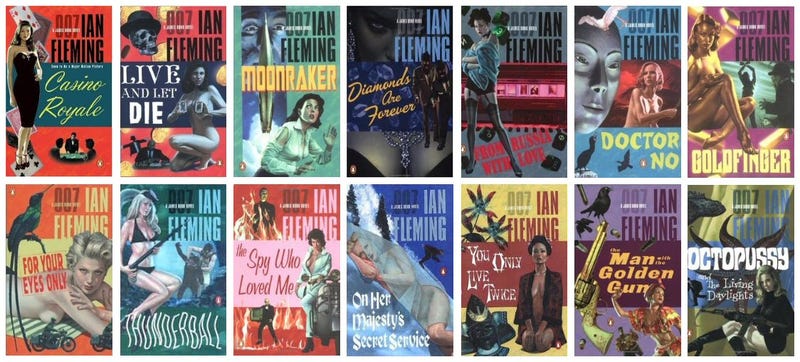 Here in the United States, we're excited because James Bond has another big movie coming up. But in Canada, James Bond just entered the public domain. Or at least, Ian Fleming's books did. To celebrate, ChiZine Publications is putting out a book of "unauthorized" James Bond stories.
Licence Expired: The Unauthorized James Bond is edited by Madeline Ashby (vN, Company Town) plus David Nickle (Knife Fight and Other Struggles). And the table of contents includes Jeffrey Ford, Charles Stross, A.M. Dellamonica and a ton of other great writers:
Forward by Matt Sherman

Introduction: The Bitch is Dead by David Nickle

"One Is Sorrow" by Jacqueline Baker

"The Gale of the World" by Robert J. Wiersema

"Red Indians" by Richard Lee Byers

"The Gladiator Lie" by Kelly Robson

"Half the Sky" by E.L. Chen

"In Havana" by Jeffrey Ford

"Mastering the Art of French Killing" by Michael Skeet

"A Dirty Business" by Iain McLaughlin

"Sorrow's Spy" by Catherine McLeod

"Mosaic" by Karl Schroeder

"The Spy Who Remembered Me" by James Alan Gardner

"Daedelus" by Jamie Mason

"Through Your Eyes Only" by A.M. Dellamonica

"Two Graves" by Ian Rogers

"No Mr. Bond" by Charles Stross

"The Man with the Beholden Gun: an e-pistol-ary story by some other Ian Fleming" by Kathryn Kuitenbrouwer

"The Cyclorama" by Laird Barron

"You Never Love Once" by Claude Lalumière

"Not an Honourable Disease" by Corey Redekop

Afterword by Madeline Ashby
The book comes out in November from ChiZine's ChiDunnit imprint, and won't reference the movies or any books not written by Ian Fleming.