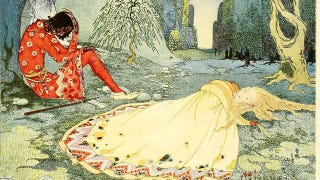 Virginia Frances Sterrett's artwork for an edition of Old French Fairy Tales is like the platonic ideal of fairytale art — the colors are so vibrant, the lines so strong. It reminds me of Aubrey Beardsley and maybe William Blake, a little.
Will Schofeld has a fantastic selection of Sterett's art over at 50 Watts, and it's worth taking the time to pore over every lush illustration. Writes Schofeld:
Missouri-born illustrator Virginia Frances Sterrett (1900–1931) managed to complete just three books in her short life, all of them commissioned by the Penn Publishing Company: Old French Fairy Tales (1920), Tanglewood Tales (1921), and Arabian Nights (1928). She was diagnosed with tuberculosis at the age of 19, around the time she received that first commission.
Here are some of our favorites, from among Steretts' fairy tale art. Check out some more at the link. [50 Watts, via Maria Popova on Twitter]