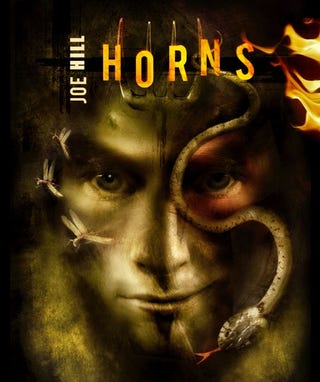 Shia LaBeouf's next thriller will have him sporting big honking horns. Playing Ig Perrish, from Joe Hill's bestselling novel Horns, LaBeouf will use his new head accessories (and their powers) to solve the murder of his beloved.
Not only is Hill the author of the very popular comic books Locke & Key, but he is also the son of Stephen King. Here is a better summary from Amazon of Horns, Hill's Gothic Fiction book:
Merrin Williams is dead, slaughtered under inexplicable circumstances, leaving her beloved boyfriend Ignatius Perrish as the only suspect. On the first anniversary of Merrin's murder, Ig spends the night drunk and doing awful things. When he wakes the next morning he has a thunderous hangover, and horns growing from his temples. Ig possesses a terrible new power to go with his terrible new look-a macabre gift he intends to use to find the monster who killed his lover. Being good and praying for the best got him nowhere. Now it's time for revenge.
As of right now, there is no director attached to this project, and LaBeouf already has a heap of movie work on his plate. So it could be a while until he gets to filming Horns.
Via Variety