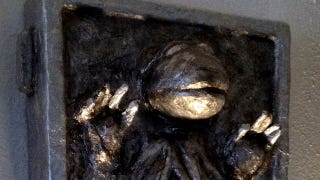 When Frog Solo joined the Rebellion against the Empire and the evil Animal Vader, he had to know there would be consequences. James Hance, the artist behind so many sweet and expected Star Wars mashups, created a life-sized sculpture of our favorite froggy stage manager as the trapped Han Solo.
It's worth checking out the process shots for Hance's sculpture, especially for the photo of a Kermit doll looking quite worried over his doppelgänger. Unsurprisingly, this sculpture already sold at an eBay auction.
I find this especially entertaining since my first exposure to Star Wars was through the Muppet Babies episode "Gonzo's Video Show," although in that episode, Kermit played Kermit Skyhopper, who was sort of a Luke/Han hybrid (evidently, the babies didn't know that Luke and Leia were brother and sister).
'Sheesh!' (Kermit in Carbonite - Sculpture) [James Hance]