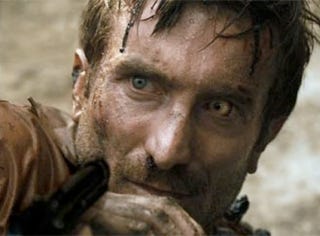 New alien film I Am Number Four ditched District 9's star Sharlto Copley in favor of Timothy Olyphant, due to scheduling conflicts. But was the real reason Copley left a Spielberg/Bay-produced film a fight over fake alien ears?
I Am Number Four, which is D.J. Caruso's next film adaption of James Frey and Jobie Hughes's YA book, has been gobbling up the hot young teens for its cast. But just this week it was reported that Copley would have to leave the role of Number Four's alien mentor, due to commitments to promote The A Team. But Film Drunk, which has had a few Number Four scoops as of late, is reporting that the conflict was actually something different:
The real story, and I promise I'm not making this up, is that Sharlto Copley wanted wear a prosthetic nose and fake ears like Spock and look like an alien in the movie, while director DJ Caruso was adamant that the aliens were supposed to look just like regular humans, hence why they're able to fit in. This was apparently such a sticking point that neither would budge, and Copley left the project.
God we hope this is true because if so, it's amazing.
The film is about, "nine alien teens [who] come to Earth after their planet is destroyed by an enemy species. But soon discover that their enemy is now after them on Earth." So clearly giant fake ears probably wouldn't have worked so well. Ah well.