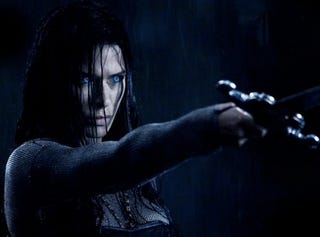 Stargate Universe is turning up the heat. First there were the sexy fire-kissing pictures, and now we hear Rhona Mitra is joining the cast as an alien. Someone beat me with a Kino, it's getting hot on that stranded ship.
Accoding to Gateworld Actress Rhona Mitra is signing on for a "key role" on the new Stargate Universe series. She will be guest staring in a three episode arc which includes the two part finale.
Her character's name is Kiva and is described as
A strong-willed commander of an alien incursion force. Kiva will do whatever it takes to safeguard her people even if it is at the ultimate expense of the Destiny crew.
Internet speculation leads us to believe she will be the commander of the Lucian Alliance, who may or may not be the alien rogues who attacked the original Icarus Base in the pilot, which caused the crew to flee through the dangerous Stargate.