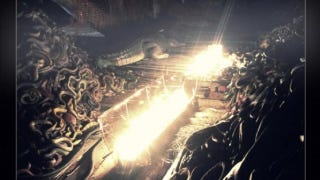 Time to rename Darren Aronofsky's NOAH to Nightmare Boat. The first ever image from inside Noah's Ark on Aronofsky's movie about the time God said, "Fuck it, let's flood the Earth and put two of every animal in a wooden ship," is out. So what's in Noah's Ark? Just a crap load of snakes. So many snakes. It's truly a boat of terror.
Why did it have to be snakes?
Cinematographer, Matthew Libatique, tweeted this set photo with this caption: "Pre lighting on the holiest day of the year." And all you can see are snakes and a crocodile (or an alligator, we can't tell yet). Not to be cruel to snakes (because some of you guys are A-OK) but I would rather take my chances drowning with the unicorns than ride in this slithering hell ship.
Noah is set to be released in March of 2014.
[via Collider]