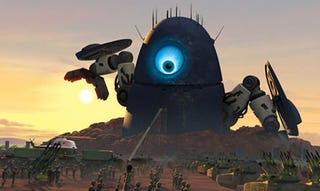 Sept 15
An American Werewolf In London: Special Edition
Army of Darkness: Screwhead Edition
Two classic horror comedies, two re-releases. If you're forced to choose between the two, go for Werewolf; Darkness is more of a straight re-release.
Deadgirl
What to do when you find a corpse chained to a table, and then discover that said corpse isn't actually dead? If nothing else, this dark comedy horror will make you realize that any answers you'd come up with to that question would be better than what happens here.
Doctor Who: The Next Doctor
Davids Tennant and Morrissey team up to take on Dervla Kirwan's villainous Miss Hartigan as the BBC mysteriously release last year's Christmas special after the already-out Planet Of The Dead special. Well, it is all time-travel, I guess...?
Primeval Vol. 2
The unintended end of the series can be found in this 3 disc box set that, despite the confusing title, actually contains the third season of the now-canceled show.
Sanctuary: The Complete First Season
See? This is how you name your DVD releases, clear and simple. Although, if they'd wanted to be completely descriptive, they would've called it The Complete First Season With Commentaries On All The Episodes, The Original Webisodes And Some Other Special Features. But that may have taken up too much room on the packaging.
Star Wars: The Clone Wars - Clone Commandos
A second selection of episodes from the first season of the Cartoon Network show that reminds people that, while war may be hell, Star Wars is just a pretty bad heck. Or perhaps a goshdarnit, at most.
X-Men Vol. 3: The Marvel Collection
X-Men Vol. 4: The Marvel Collection
Two more collections of episodes from the 1990s cartoon to remind people that, before there were X-Men movies that didn't match up to the Batman ones, there were X-Men cartoons that didn't match up to the Batman ones. But then again, I liked Spider-Man and His Amazing Friends, so what do I know?
X-Men Origins: Wolverine
Talking of X-Men movies, here's this summer's installment, allowing you to study the acting talents of Will-I-Am at your leisure. Also, with the ability to skip chapters, you can pretend that Gambit doesn't exist, which will immediately make the movie better.
Sept 22
Battle for Terra
It was the CGI movie you kept seeing trailers for, but don't actually remember seeing in theaters - and now it's out on DVD for you to ignore at home, too.
Clive Barker's Book Of Blood
Yes, yes; it was Books of Blood when the books were originally written, but times are hard for everyone, and movie didn't have the largest of budgets, so some cutbacks were inevitable (It's actually premiering on Syfy this week, for those who want a preview).
The Haunted World of El Superbeasto
If the idea of an animated movie based on a comic book about a superheroic masked wrestler created by Rob Zombie doesn't interest you, maybe the cast list - which includes Paul Giamatti, Rosario Dawson and Brian Posehn - will. Otherwise, we can't help you.
Scooby Doo: The Mystery Begins
Because, sometimes, you need a live action reboot of the Scooby Doo franchise by the man who directed the Flintstones live action movies. Of course, when we say "need," we may be using that word incorrectly. Nonetheless, this direct-to-DVD epic shows the first meeting of Fred, Daphne, Velma, Shaggy and Scoob, and without the disturbing presence of either Sarah Michelle Gellar or Freddie Prinze Jr. So... potential win after all?
Star Trek: Original Motion Picture Collection Box Set
Star Trek: The Next Generation Motion Picture Collection Box Set
Paramount finds a new way to recycle the Star Trek movies with these new era-specific box sets. We look forward to the inevitable Star Trek: The Good Ones, You Know What We Mean box set within a year (Also: Am I the only one who was surprised to find out that there were four TNG movies, even though I've actually seen them all? I think I subconsciously try to pretend that Insurrection and Nemesis don't actually exist).
Terminator: The Sarah Connor Chronicles: The Complete Second Season
Your chance to relive the only Terminator that mattered this year, despite that whole cancellation thing, with six discs full of episodes, commentaries and special features. Buy it in the hope that someone at Fox will change their mind when they see the sales figures.
Sept 29
Batman Collection: 4 Film Favorites Box Set
Those "film favorites" would be the Michael Keaton/Val Kilmer/George Clooney movies, by the way. It seems fair, because to add in either of the Chris Nolan-era movies - or even the 1966 Adam West one - would make any of these four seem somewhat lacking in comparison (Okay, maybe not Batman Returns).
Blade Collection: 4 Film Favorites Box Set
I know what you're thinking: "There were only three Blade movies, how can they have a 4 DVD box set?" The answer lies in including the pilot for the short-lived TV show in there, which seems like a slight cheat to me, but that's why I'm not a Warners Home Entertainment executive.
Hardware
Finally making it to DVD, Richard Stanley's 2000AD-inspired robot horror movie from 1990 finds a new, uncut and uncensored form to ensure that old-school fans will want to pick it up as well. If nothing else, how often do you see Iggy Pop and Lemmy in the same movie?
Monsters Vs. Aliens
Dreamworks Animation's love letter to old school B-movies proved to be much better than expected when it was released in theaters earlier this year, and the DVD - with special features on the making of the movie, deleted scenes and, bizarrely, a Dreamworks Animation Video Jukebox - aims on taking even more advantage of the impressionable hearts, minds and wallets of kids of all ages.
The Real Ghostbusters Complete Collection Box Set
25 discs of animated paranormal activity, as the entire five year run of the 1980s (and early '90s) cartoon (including Slimer spin-off) gets collected in this insanely comprehensive box set that also has twelve hours of special features. You may never have to leave the house again. Or, at least, not for a few weeks.
Superman/Batman: Public Enemies
The latest DC animated movie adapts Jeph Loeb and Ed McGuinness' fun, over the top tale of President Lex Luthor trying to turn the world against our favorite superheroes, only to (a) go insane in the process and (b) lead to the creation of a giant Superman/Batman composite robot. If they've not changed too much, this could be the guilty pleasure of the fall.
Ultraman: The Complete Series
...Or, perhaps, it could be this: A 4 disc box set collecting all 39 episodes of the mid-60s Japanese TV show that brought the madness and production values of Godzilla movies to television on a weekly basis. Robot superheroes versus monsters courtesy of Eiji Tsuburaya? Works for me.