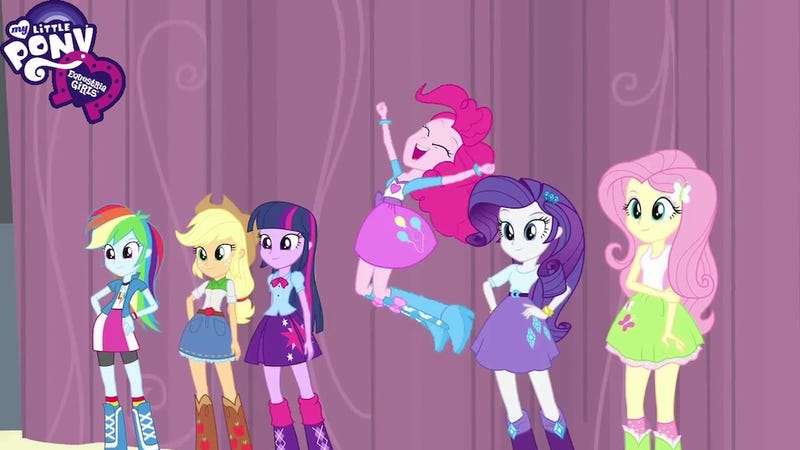 Horse women, walking upright, take advantage of our already beleaguered education system. It sounds like a horrifying social commentary, but in fact it's just the plot of the new My Little Pony movie Equestria Girls. Plus Oblivion, some Disney, Swamp Thing and more, all in this week's DVDs!
• My Little Pony: Equestria Girls
I know on paper this cartoon movie, which posits the MLP:FIM ponies and anthropomorphic horse girls in high school, is a natural and clever way to extend the brand amongst its target audience (young girls). But I've seen too much erotic MLP fanart when they were only just ponies to be even slightly comfortable with this concept.
• Oblivion
A.k.a. Tom Cruise's remake of Wall-E with more shooting. The Blu-ray contains a bunch of featurettes that the DVD doesn't, fyi.
• Walt Disney's Robin Hood: 40th Anniversary Edition
Is Disney's animated, fox-starring Robin Hood movie the best Robin Hood of all time? I say yes, but it's not like there's a ton of competition. This Blu-ray contains a deleted storyline, an alternate ending, a bonus short, and more. Oo-de-lally, mother f**ers.
• Community: The Complete Fourth Season
Relive all the hit episodes of the first three seasons, except worse! Honestly, unless you're determined to own the entire show but are adamantly opposed to buying the inevitable complete series set for some reason, I have no idea why you'd buy this thing.
• The Sword in the Stone: 50th Anniversary Edition
Disney's chipper adaptation of T.H. White's The Once and Future King is a good time, but it's sadly lacking in oo-de-lallys. The Blu-ray contains a mysterious alternate opening and a few shorts.
• Black Lagoon: Roberta's Blood Trail
The 5-part OVA sequel to the popular action anime Black Lagoon focuses on Roberta, the deadly assassin-turned-maid, who decides to do some deadly assassinating while wearing her maid uniform. Anime, everybody!
• Berserk: Golden Egg Arc II - Battle for Doldrey
If you like the super-violent fantasy manga Berserk, but didn't care for the first Golden Egg movie, well, you should probably still give this a try. Better animation, more action, and it tells a more compelling part of the epic manga, too.
Wes Craven wrote and directed this monstrous superhero movie well before Alan Moore turned the character weird and moody. Still, it stars Ray Wise, Shout Factory has done another great job transferring it to Blu-ray, and it's a lot of fun.
• A Boy and His Dog: Collector's Edition
A young Don Johnson and his canine companion wander the post-apocalypse in this weird cult classic based on a Harlan Ellison novella. This Blu-ray contains an all-new transfer and a conversation with Ellison himself regarding the film.
I know this goofy Macauley Culkin movie came out in 1994, but look at the Blu-ray cover and try not to pretend you've slipped into an alternate universe where Culkin was cast as Harry Potter.
The non-hit movie based on the hit videogames comes to Blu-ray. Freddie Prinze Jr. proves why he was his generation's Ryan Reynolds as he fights cat people from space.
• Battlestar Galactica 35th Anniversary Edition
The movie version of the original TV pilot of the original TV series comes to Blu-ray. It's shorter than the TV version but has a few alternate scenes, if you're curious.
Roger Corman's final movie in the director's chair was of this Brian Aldiss novel, starring the vastly overqualified John Hurt as a time-traveling scientist, Bridget Fonda as Mary Shelley, and Raul Julia as Dr. Frankenstein.