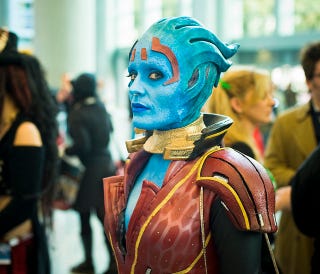 If this blue-skinned lady looks just a little too much like Mass Effect's badass justicar, that's because she's Rana McAnear, the actress who provided the model for Samara. And she's using her resemblance to the character to take the illusion of cosplay to another level.
McAnear actually used crowdfunding site IndieGoGo to fund her costume, which is how she pulled off those custom pieces. (She also shaved her head for easier tentacle application.) Now she's making the rounds at conventions, showing off her spot-on Samara. I'd love to see if she could pull off Samara's cool, samurai dialogue.
Photos are from WonderCon 2012, taken by awesome cosplay photographer Onigun.
[via Unreality Mag via Neatorama]