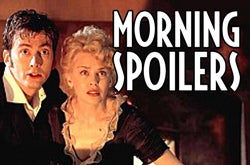 Morning Spoilers
If there's news about upcoming movies and television you're not supposed to know, you'll find it in here.
Someone managed to snap a few revealing photos from the new Star Trek movie, and we're happy to report that micro-skirts are back. Also, a new Iron Man photo reveals a new guest star, and some Lost images hint at a plot twist that could change everything. Click through for the latest batch of TV and movie spoilers.
We're continuing to experiment with the format of Morning Spoilers, and debating whether Chuck really deserves its own section head.
Star Trek:
Here are some photos of Star Trek's filming at California State University, Northridge, which appears to be dressed up as Starfleet Academy. Note the kicky miniskirts on the women, and the cool-looking space car. [AintItCoolNews]
Iron Man:
Here's the first Iron Man pic which shows Hilary Swank's cameo in the movie. We still don't know which character she plays, but speculation is rife that she may be the super-spy Black Widow. [Starkindustries.ru, via IESB]
Meanwhile, an unnamed star may have a cameo in the end credits of Iron Man, but it's not clear if it's Hilary Swank, Samuel L. Jackson, or someone else. Meanwhile, Robert Downey Jr. says Tony Stark will appear in the Incredible Hulk movie, approaching General Ross about a partnership... just when Ross is at his lowest point after his mishandling of the Hulk situation. [MTV Movies]
Lost:
In tomorrow night's Lost episode, it looks like Michael is going to try and blow himself up and take the boat with him. At least, here he is reading some instructions, and then looking at a suitcase full of explosives. [Wired]
Meanwhile, fans speculate that the next high-profile death on Lost will be Claire... mostly based on what happens to her son Aaron. [The Edge]
And the reason you haven't seen the four-toed statue again since its first appearance is because ABC complained that it was "too weird." Meanwhile, we won't learn any more definitive answers about the Oceanic Six any time soon, now that we know Jin isn't one of them. But it's still possible that Aaron counts as one of the Six. [TV Guide]
Chuck:
Chuck season two will start off with a kind of "reset" that acknowledges that time has passed since season one. And the show will introduce some new characters, including new villains. One of whom could be Jean-Claude Van Damme. [TV Guide again]