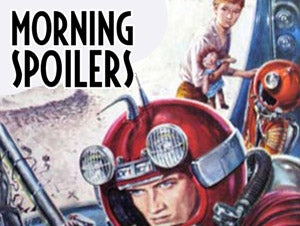 Morning Spoilers
If there's news about upcoming movies and television you're not supposed to know, you'll find it in here.
Lost fans have cobbled together the ultimate spoiler grail for season six's giant nothing-will-be-the-same twist. Plus your first look at Supernatural's future post-apocalyptic Dean, and Doctor Who's next military man. Also: Fringe, Dollhouse, Smallville, Chuck, Twilight and Heroes spoilers.

Lost:
So apparently all the filming that's been taking place, involving the safe landing of Oceanic flight 815, is from the season's third episode, entitled "What Kate Does." And there are tons of set reports and inside dirt. Apparently, on the plane, Jack and Cindy the stewardess talk about drinks, and Rose waits for Bernard to get back from the bathroom — then there's turbulence, but Bernard returns from the bathroom in one piece. Charlie gets sick and calls out for a doctor. Boone is annoyed at not being in first class, and Boone and Locke have some words.
When the plane lands, the sickly Charlie is led off the plane first and Locke is put in his wheelchair. Dr. Arzt recognizes Hurley as "that Chicken Shack guy" and asks him to say his catch phrase. Jin and Sun are talking in Korean, and Jin is being a jerk again. Meanwhile, Jack is upset because his father's coffin has gone missing, and the funeral is in two hours.
As for Kate, she's handcuffed to the U.S. Marshall, but gives him the slip in the bathroom. And that taxi she commandeers at gunpoint has a pregnant Claire already sitting in it. Sounds like Kate tosses the taxi driver out and drives away, with Claire still in the cab. They drive to a big house near where Hurley used to live, and then an unknown woman (either the woman whom Richard Malkin recommended to Claire back in season one, or possibly actor Jenni Blong) opens the door and says she can't adopt Claire's baby: "I'm sorry, I'm so sorry. I really wanted this. But my husband… I just can't have the baby right now." Claire starts going into labor and Kate shouts "Call a doctor."
And one scene being filmed also involved a taxicab that had been in a traffic accident and was surrounded by LAPD cars.
[The Transmission and SpoilersLost and The ODI and Hawaii Weblog]
Meanwhile, the show is also prepping some new and old props and set pieces. There's an archway we haven't seen before, and a weird staircase, and some pillars with old symbols on them. There's also the pillar that Locke's dad was tied to when Ben wanted Locke to kill him, the Hatch door, the Submarine, and the well Locke fell down on his way to the Orchid station last year. Plus some airplane windows. More pics at the link. [The ODI]

Doctor Who:
Stuart Milligan plays Colonel Stark, a crucial character, in the upcoming animated adventure "Dreamland," and here he is talking about the character:


Fringe:
The team is going to be more proactive this season, mostly due to Peter. Also, as Walter gets more independent, we'll see more development of his relationship with Astrid — and maybe, more development for Astrid generally. (Yes please!) But meanwhile, Olivia is this season's "tragic heroine." And we're going to unravel the secrets of Walter's shared relationship with Olivia very slowly over the course of the season. Oh, and Walter finally meets Nina. (But shockingly — there have been three different Gene the cows. [L.A. Times]
Dollhouse:
Don't hold your breath to see Alpha again — Alan Tudyk says he won't be back until the last few episodes of the current run of episodes. [EW]
Some new promos for the second season that I don't think we've featured before:




Supernatural: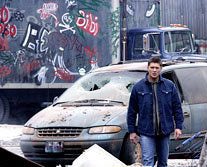 Here's the first image from the Oct. 1 episode, where Dean travels forward to 2014, where a zombie plague, unleashed by Lucifer, wreaks havoc. (Click the link for the full image.) The Future Dean is the leader of a resistance camp, and we discover the fate of the show's beloved Chevy Impala — it's up on cinder blocks, rusted and gutted. Dean is "like, 'oh baby, what did they do to you?'" says Jensen Ackles. [EW]
Wondering exactly how the show is going to use Paris Hilton in her upcoming cameo? Here's the official description for episode five, "Fallen Idol":
PARIS HILTON GUEST STARS - Sam (Jared Padalecki) and Dean (Jensen Ackles) decide to start hunting together again and their first case leads them to a small town whose inhabitants are being killed by famous dead icons like Abraham Lincoln and James Dean's car. However, after two teenage girls come forward and claim their friend was kidnapped by Paris Hilton (in a cameo role as herself), the brothers aren't sure what they are hunting anymore.
[SPNSite]
And here's a sneak peek from Thursday's new episode:


And finally, some set pics including Bobby, from episode 5x07, "The Curious Case Of Dean Winchester". [SpoilerTV]

The Descent 2:
A new French one sheet gives us a scary new look at this upcoming sequel. [ShockTillYouDrop]

Chuck:
Vinnie Jones, the ex-British football player, will guest star as an expert hit man with a soft side. [THR via Zap2It]
Also, there's a casting call for episode 3x06, "Chuck Vs. The Nacho Sampler," in which we meet Manoosh Depak, an East Indian in his 20s who's a computer genius. [ChuckTV]
Smallville:
As you may already know, the new season picks up three weeks after the last season ended. And no sooner does Lois reappear mysteriously than she's being chased by a Kryptonian ninja-chick. We see lots of lois and Ollie interacitng, and we also get lots of scenes inside the Watchtower, including some scenes with Dr. Hamilton. [KryptonSite]
And here's the official description of the season's third episode, "Rabid":
ZOD UNLEASHES A VIRUS INTO METROPOLIS - Zod (Callum Blue) and his soldiers release a virus into the air that turns humans into zombies. The only way to stop it is to make an antidote from the blood of another Kryptonian. After Lois (Erica Durance) is infected, Chloe (Allison Mack) pleads with Clark (Tom Welling) to donate his blood to stop the epidemic, even though it risks outing him to Zod.
And a single page of casting script pages shows us a guy named Pope (possibly THE Pope?) who is trying to get away in a Limo with some diamonds (and some ladies? Although that may just be a metaphor for the diamonds), and some kind of huge animal jumps on the limo roof and then jumps away. The limo then crashes into a power pole, knocking the passenger and driver unconscious, and the diamonds are scattered everywhere. This is from episode eight, "Idol." [SpoilerTV]
Twilight: Eclipse:
Some new set photos include cars, and some truly awful hair. [SpoilerTV]

Heroes:
Excited to meet evil carnival barker Samuel (Robert Knepper) tonight? Well, soon you'll meet Samuel's older brother as well, played by Andrew Connolly. [THR]
Also, Sally Champlin says she'll be back in at least two episodes, playing Lynette at the Burnt Toast Diner (from season one.) And it sounds like she may get to do some singing — and she has a scene where she discovers that Hiro has a cute butt. Separately we'll see Traci and HRG coming together to deal with things in their own lives. And Mohinder shows up in tonight's premiere, but really gets a huge role in the tenth episode of the season, where things get "hairy" for him. [The ODI]
And here's the synopsis for the season's fourth episode, "Acceptance":
THE HEROES ARE TRYING TO ASSIMILATE BACK INTO THEIR OLD LIVES — ROBERT KNEPPER, RAY PARK, BRUCE BOXLEITNER AND SWOOSIE KURTZ GUEST STAR — As Hiro's (Masi Oka) life continues to hang in the balance, he distracts himself with saving the lives of others. Meanwhile, Angela (Cristine Rose) tries to help the new "Nathan" (Adrian Pasdar) remember his past, at the risk of his remembering too much. Elsewhere, Tracy (Ali Larter) is determined to get her old job back, but soon realizes that she needs to make more of an impact.
A new promo — Sylar's back!


Here's the official description for episode 5, "You're Undead To Me":
Stefan (Paul Wesley) is hopeful that his plan to get rid of Damon (Ian Somerhalder) is working. Elena (Nina Dobrev) and Jenna (Sara Canning) are concerned about Jeremy's (Steven R. McQueen) relationship with Vicki (Kayla Ewell). Stefan decides to reveal parts of his past to Elena. At a fund-raising car wash, Bonnie (Katerina Graham) is surprised by abilities she didn't know she possessed, and seeks advice from her grandmother (Jasmine Guy, "A Different World"). Finally, Elena hears a disturbing story about the Salvatore family from a stranger.
And there's a casting call for a couple of sexy vampires who show up in episode seven:
[LEXI] (early to mid 20's) A sexy, feisty, fiery, ball of fun VAMPIRE who comes to Mystic Falls to visit her old friend Stefan. GUEST STAR, POS RECURRING. ANY ETHNICITY. STAR/STUNT NAMES ONLY

[LEE] (mid to late 20's) Dark, angry, menacing, sexy bad boy. Lexi's on-again off-again ex-boyfriend who doesn't think twice about turning Mystic Falls into one giant vampire buffet. GUEST STAR, ANY ETHNICITY. STAR/STUNT NAMES ONLY.
Additional reporting by Alexis Brown.