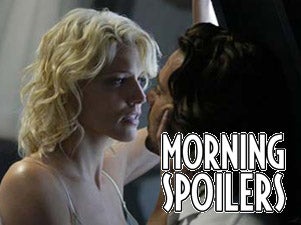 Morning Spoilers
If there's news about upcoming movies and television you're not supposed to know, you'll find it in here.
Jeff Bridges takes on two roles in Tron Legacy, Supernatural travels into the future, and Cuddy gets some loving on House. Plus, more details on Dollhouse, seven clips from FlashForward, and Kick-Ass, Fringe, Warehouse 13, and The Green Hornet

Tron Legacy
Producer Sean Bailey says that the younger version of Jeff Bridges (depicted using the same techniques done to de-age Brad Pitt in The Curious Case of Benjamin Button, play a major role in the film. But Bridges will also play a second, older character, though Bailey won't say who. He also said that the computer world of Tron Legacy is not part of the Internet, but an isolated space that evolved on its own, much like the Galapagos Islands. He also reiterated that we'll be seeing light runner vehicles traveling off-road. [SCI FI Wire]
Surrogates
Radha Mitchell talks a bit about playing her character as both her human self and her robotic surrogate:
It's great to be able to change your costume in one story, and have these two different identities, but what I guess the story really gets at is the abstraction of social interaction and I guess also the obsession with perfection. So there are the robots that are all supposed to have this particular aesthetic look that I guess currently we would consider better than the other look, but if you can change your costume like that, you lose the bias, and then you go for comfort. I had a padded ass in the second costume, and, like, buckteeth, but ultimately when you can wear high heels, or you can sit around in a padded ass? So you can do either or by choice and you choose the ass. Then there's the idea that you could change your gender, and you could change your race, so what is intrinsic to who we are? We feel like it's this sort of physical thing, but maybe we are just these creatures of the mind.
Pandorum
Here is the German trailer for the scifi thriller:

The Green Hornet
Seth Rogen gets suited up (in an actual suit) for his superhero movie, plus Jay Chou in suspenders:

Dollhouse
At the end of the season premiere, Echo will reveal to Paul that she is functioning with multiple personalities in her head and is becoming aware of her situation. And then Paul will start to look upon Echo as something other than a damsel in distress. [EW]
Kick-Ass
Mark Millar says both the Kick-Ass book and the movie will end on a teaser, setting up a sequel. [MTV]
Fringe
Blair Brown, who plays Massive Dynamics COO Nina Sharp, talks a bit about her character and the coming season:

[Zap2it]
Episode nine will feature Dr. Lao Che, an English and Cantonese-speaking herbalist with big plans. [Spoiler TV]
We'll have a fresh encounter with one of Broyles' old cases from his long history with the Fringe Division this season. [EW]
Joshua Jackson said not to expect any Peter-Olivia romance, as he views their relationship more like that of siblings. He also says this season's episodes are about half mythology episodes, and half one-off investigations. [CinemaBlend]
Supernatural
As we mentioned, the season's fourth episode, "The End," features Dean traveling into the future to the year 2014, when a demonic virus is turning people into zombies, and Zachariah explains that this is the world that results from Dean's refusal to help the angels fight Lucifer. Dean also meets his future self.
It's a Dean-heavy episode, to be sure, but Sam will appear about ten minutes before then end, and his appearance will make his absence from the rest of the episode make sense. [E! Online]
For the seventh episode, Hal Ozsan and Pascale Hutton have been cast as Lia and Patrick respectively. [Spoiler TV]
House
Creator David Shore is aware that Taub and Thirteen's three-year fellowships are about to end, but hasn't figured out what to do about it. Also, there are no indications in the early scripts that Cuddy is aware of House getting down and dirty with Franka Potente, but Cuddy may be getting a little action of her own, in the form of scruffy privae detective Lucas Douglas. [EW]
Lost
The third episode of the new season will center on Kate. [EW]
Warehouse 13
Here is the official description and sneak peek for the show's first season finale from Syfy:
"MacPherson" is the thrilling action-packed season finale which features guest appearances by CCH Pounder (ER) and Roger Rees (Cheers). MacPherson, after a failed attempt to take Artie's life, is now selling dangerous artifacts, stolen from the Warehouse shelves, on the black-market. Artie and Leena (Genelle Williams) also suspect there's a mole in the Warehouse who's secretly aligned with MacPherson – could it be Claudia? Meanwhile, as the team hunts down MacPherson, they realize too late that his capture is a carefully orchestrated trap to destroy them.
V
The producers are casting the guest role of Cyrus for episode three. He'll be a jittery man in his late 30s who was, in his youth, a fierce and proud soldier. [Spoiler TV]
Heroes
Actors Ray Park and Robert Knepper say that their characters aren't stereotypical carnival folk, and Knepper described his character Samuel is a "Keith Richards-esque, rock and roller kind of guy." Park said his character, Edgar is a supe speedster like Daphne, with knife skills and acrobatics as a bonus. Samuel, meanwhile, is an earthmover, able to manipulate the ground beneath him. They also said there is a lot of rivalry and jealousy between the pair, saying if they trust each other, they still won't turn their backs on one another for very long. [CBR]
On September 28, NBC is launching ten consecutive weeks of Heroes webisodes, which they say will crossover with the TV series. [Spoiler TV]
The tenth episode of the season is called "Brother's Keeper." [HeroesSite]
Eureka
In the season finale, Zoe heads off to Harvard, Tess is off to Australia, and a magnetic disturbance hovers over the town:

Cameron Diaz goes groovy in the latest round of publicity stills:

Priest
Madhcen Amick has been cast in this Paul Bettany-starring vampire Western. She'll be playing the mother of Bettany's kidnapped niece. [ShockTillYouDrop]
Smallville
In the early part of the season, Tess will mostly be interacting with Zod. They'll be allies, but with very different agendas — hers to protect the Blur, his to find him. And episode three will feature a zombified Lois Lane. [EW]
FlashForward
Seven clips from the premiere have been released:

[UGO]
In the third episode, a young Somali herder will see some very surprising things. [Spoiler TV]
MovieWeb has tons of interviews with the producers and cast:
Marc Guggenheim:

Jessika Borsiczky:

David Goyer:

Joseph Fiennes:

Christine Woods:

Courtney B. Vance:

Sonya Walger:

[MovieWeb]
Ian Somerhalder, who plays less human-loving vamp Damon, says that while we'll see flashes of Damon's humanity, he'll stick with the evil thing for a while. He also says that Damon harbors a lot of animosity toward his brother Stefan for something that happened in their past, and any time Stefan finds himself enjoying any happiness, Damon will show up to ruin it. To that end, Damon will try to ingratiate himself to the townsfolk and worming his way into Stefan's life. [E! Online]
Additional reporting by Alexis Brown and Charlie Jane Anders.