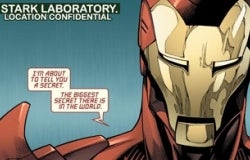 Who do you trust? Well, that decision has been made a little easier for you with the start of Marvel's Secret Invasion publicity blitz, which includes a "you have to sign up for a $9.99 membership to read it" preview comic and the first ten pages of the first issue going online at Entertainment Weekly's website. Which heroes have been swapped out for alien invaders? You'll learn at least one from these prologues. Or, alternatively, by just clicking under the jump. Spoilers may follow.
In the "exclusive" Marvel.com preview comic - which requires you to sign up for their Digitial Comics Unlimited program if you want to read it - longtime sidekick "Dum Dum" Dugan gets replaced by a no-good Skrull agent, just in time to be present at secret spy agency SHIELD's headquarters watching a Skrull ship hurtling towards Earth in Entertainment Weekly's preview of the "official" first issue. Given certain rumors about other characters who may be aliens, there seems to be a visual code being created to identify who is actually no good: they're shown in silhouette in a panel where everyone else appears entirely normally (See also Jarvis the Butler, Wolverine, in this preview). Or maybe that's just what they want you to think...
The first issue of the series appears in stores next week.
First Look: Secret Invasion [EW.com]
Read the Secret Invasion Preview [Marvel.com]