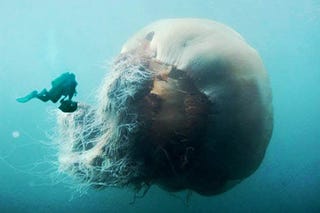 Earlier this summer, we warned you about the Echizen jellyfish — creatures that can weigh hundreds of pounds. But a group of high schoolers have found a use for sea monsters: turn them into candy and feed them to astronauts.
A few years ago, students at the Obama Fisheries High School in Fukui Prefecture developed a method of processing the monstrous jellyfish into an edible powder, which has been used to make cookies. But lately, raw caramel has been all the rage in Japan, prompting the students to try their hands at sea creature-based caramels. Adding sugar and starch syrup to the jellyfish powder, they have produced a sweet and salty candy.
It was a NASA-designed food safety management system that kicked off this jellyfish cuisine in the first place, and the high school is looking to give something back to the space program. The students have a meeting this week with the Japan Aerospace Exploration Agency to make their caramels an official part of the menu aboard the International Space Station.
Space caramel made from giant jellyfish [Pink Tentacle]