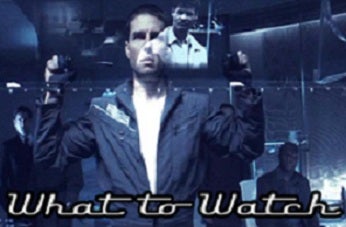 Sunday sees the season finale of True Blood and the return of the Venture Bros. There's a new Mad Magazine cartoon show. Sexy spy show Nikita launches, and Cloverfield and Jumper have their network TV premieres. Your televisual future awaits!

Today:
Today sees the series premiere of a new show, Mad, which is based on the magazine of the same name. That's on Cartoon Network at 8:30 PM. According to the press release:
Produced by Warner Bros. Animation and using the iconic MAD magazine, published by DC Comics, as inspiration, MAD is an animated sketch-comedy series utilizing a chaotic mix of animation styles and twisted humor to pull back the curtain and expose the truth behind movies, TV shows, games, pop culture and, of course, curtains! Classic MAD magazine characters and features such as Alfred E. Neuman and Spy vs. Spy pop up, and no subject matter or individual will be safe from MAD's barrage of parodies and sketches. In the end, viewers won't get even, they'll just get MAD! Sam Register (Teen Titans, Ben 10, Batman: The Brave and the Bold) is the executive producer. Kevin Shinick (Robot Chicken) and Mark Marek (KaBlam! The Andy Milonakis Show) are the producers.
Also on Cartoon Network, at 8:15 PM, another new show called Regular Show, about a giant bluejay and a hyperactive racoon hanging out together.
Cartoon Network also has a new Scooby Doo: Mystery Inc. at 7 PM, Johnny Test at 7:30, Adventure Time at 8 PM, and Total Drama World Tour at 9 PM.
Also, NickToons has a new episode of Dragon Ball Z Kai, the show which features revised versions of classic Dragon Ball episodes, at 5 PM, and this is the first new episode after a month or so off. Here's the synopsis, according to Wikipedia:
Krillin and Gohan discover that although the Namekian Dragon Balls can grant three wishes, they can resurrect only one person per wish, unlike the Earth's Dragon Balls. After consulting with their dead friends via King Kai's telepathic abilities, they use the first wish to revive Piccolo, which also brings Kami and the Earth's Dragon Balls back. They then use the second wish to teleport Piccolo to Namek so he can assist them. Vegeta eventually awakens and learns he's been duped, but before he can use the final wish to become immortal, the Grand Elder passes away and the Namekian Dragon Balls become useless. Just as Vegeta thinks his luck couldn't get any worse, Frieza finally arrives, and is not happy at all that his own plans for immortality have been thwarted.
Health has Mystery Diagnosis at 10 PM, about "The Toddler Who Stopped Walking."
Movies:
Spike is showing the original Star Wars trilogy (well, the revamped versions) all day during the day. And Comedy Central is showing body-switching "comedy" The Hot Chick at 1 PM. Syfy has the original Predator at 3:30 PM, and the Cartoon Network is showing Scooby Doo 2: Monsters Unleashed at 5 PM. And then The Craft is on Oxygen at midnight.
Tuesday:
There's a new Warehouse 13 on Syfy at 9 PM, called "Where And When." And it looks like our heroes are getting zapped back to 1961!

It's also the season finale of ABC's Nightline Prime Special: Secrets Of Your Mind — Why We Do What We Do, at 10 PM.
Also, there's a new Unnatural History on the Cartoon Network at 8 PM.
There's also a new It's Effin Science on G4 at 9 PM, in which the team launches a refrigerator and builds the world's fastest shopping cart.
Then at 10 PM, there's a new post-apocalyptic reality-show outing, with The Colony on Discovery. It's called "The Tick," which I'm guessing isn't a tribute to Ben Edlund's amazing superhero comic and cartoon.
And at 10:30 PM, IFC has yet another outing of The IT Crowd!
Movies:
The all-time cheeseball classic Mortal Kombat: Annihilation is on FX at noon, and Stargate is on G4 at the same time.
Then at 8 PM, Cloverfield is having its network TV premiere on FX. Relive the excitement and suspense of Rob's going-away party, but make sure you pack some Dramamine this time.
And Jaws: The Revenge is on PLEX at 10:20 PM. And then Final Destionation 2 is on USA at 2 AM.
Wednesday:
Science has a new episodes of Sci-Fi Science: Physics Of The Impossible at 10:00 PM once again, called "Deep Impact."

That's followed at 10 by Chasing Mummies on History, called "Cursed."
There's also the summer season finale of Psych on USA at 10 PM. "Shawn and Gus find themselves in the midst of a Bourne Identity-like hunt and chase after a U.S Government Spy seeks their help in clearing her name for a crime she supposedly didn't commit."
Movies:
Curse Of The Fly is on FMC at 9:30 AM. And then Sky High is on Disney at 2 PM. Cloverfield is on FX again at 5 PM.
And then FX has the network television premiere of Jumper at 8 PM. Relive all of the awesome space-warping effects — and more importantly, Samuel L. Jackson's bleach-blond hair!
Jeepers Creepers is on MTV at 1 AM. And the animated movie Hellboy: Blood And Iron is on PLEX at 4 AM.
Thursday:
It's the second season premiere of The Vampire Diaries on The CW. We took advantage of the first season coming out on DVD to watch a whole bunch of episodes lately, and we'll probably do a review of the DVDs in a few days... but suffice to say that this show is very much a silly, guilty pleasure, oozing with ridiculous melodrama and vampiric goofiness. And now that it's one of the CW's biggest hits, expect it to crank up the ridiculousness to 11 for its second year out. This is the official synopsis:
Returning for its second season, THE VAMPIRE DIARIES is the story of two vampire brothers obsessed with the same beautiful girl, and battling to control the fate of an entire town. During season one, Stefan and Damon Salvatore returned to their hometown of Mystic Falls, Virginia, for very different reasons - Stefan was determined to get to know Elena Gilbert, who bears a striking resemblance to Katherine Pierce, the beautiful but ruthless vampire the brothers knew and loved in 1864, while Damon was intent on releasing Katherine from the tomb where he believed she was trapped by a witch's spell all those years ago. At the end of season one, Elena's uncle set a plan in motion that brought the Founder's Day celebration to an end amid chaos, destruction and death, and saw the return of the vengeful Katherine Pierce. Next season, the appearance of the villainous Katherine in Mystic Falls throws a wrench into the love triangle between Stefan, Elena and Damon, and the other residents of Mystic Falls must choose sides as they fall victim to a new breed of danger. New and unexpected friendships will be forged, allies will become enemies, and hearts will be broken. Stefan and Damon will be forced to face a villain more evil and diabolical than they ever believed possible. And they'll take their shirts off. Frequently.
Then at 9 PM, the CW has the series premiere of Nikita, a new spy show loosely based on the Luc Besson movie. Basically, Maggie Q goes around killing people in a bikini. We saw the pilot at San Diego Comic Con, and were a little disappointed that there weren't more far-out gadgets or weird science ideas in this show, but it is splashy and stylish fun, so we're hoping it eventually gets more "spy-fi"-ish.

Then at 10 PM, Syfy has the first episode of a new series called Beast Legends. And the episode title is "Kraken."
The six-part series journeys around the world using scientific data to reconstruct what mythological monsters, from Krakens and Griffins to Fire Dragons, would have been like - if they had ever existed. In each of the hour-long episodes, Beast Legends uncovers historical and eyewitness accounts by zeroing in on archaeological and other physical evidence to assemble the most accurate picture possible of these monsters, from where they might have lived to how they would have behaved. The show then uses the information to create incredibly realistic CG animations of the creatures.
Movies:
Teenage Mutant Ninja Turtles: Turtles Forever is on Nicktoons at 1 PM. And Jumper is once again on FX at 6 PM. And then (sigh) Evan Almighty is on E! at 9 PM and 12:30 AM, and Men In Black is on TNT at 10 PM. And Eight-Legged Freaks is on TBS at 3 AM, and so is Android Apocalypse on Syfy. TCM is showing Curse Of The Cat People at 3 AM, followed by The Body Snatcher.
Friday:
It's the summer season finale of Eureka, on Syfy at 9 PM. In "I'll Be Seeing You":
After the bridge device disappears, Carter, Jo, Fargo and Allison find themselves in a déjà vu situation as their investigation puts Trevor Grant right at the top of the suspect list. The proverbial noose around his neck only tightens when they discover evidence that connects him to Beverly Barlowe, and her motive will put at risk everything they have struggled to achieve.
Here's a sneak peek:


And to get ready for this event, Syfy is showing a Eureka marathon all day.
And then there's a new Haven on Syfy at 10 PM.
Also, at 7 PM, National Geographic has the season finale of National Geographic Amazing!, including a segment on flesh-eating beetles.
Movies:
The original Planet Of The Apes is on AMC at 9:30 AM. The Absent-Minded Professor is on Hallmark at 3 PM. And PLEX has Forever Young with Mel Gibson at 5:15 PM. Spider-Man 3 is on FX at 8 PM. Also at 8 PM: Lord Of The Rings: The Fellowship Of The Ring, on TNT. The Terminator is on AMC at midnight.
Saturday:
Being Human is back on BBC America at 9 PM! It's episode seven of the second season, in which Mitchell and Daisy try to get to the bottom of the explosion.
Movies:
Syfy is showing an assortment of monster and adventure films all day long. Back To The Future Part II is on A&E at 2:30 PM. Spider-Man 3 is on FX again at 3 PM. Lord Of The Rings: The Two Towers is on TNT at 8 PM, and at the same time AMC is showing Wild Wild West and Cartoon Network is showing Shark Tale. And at 9 PM, Syfy has a first-run movie called Mandrake. Aeon Flux is on TNT at 3:30 AM.
Sunday:
It's the season finale of True Blood, and with uncharacteristic understatement, it's called "Evil Is Going On." Here's what it's about:
Sookie gives careful consideration to a life without vampires of any kind. While secretly planning a perfect payback for Russell, Eric deals with his feelings of right and wrong. Tommy's latest overstepping boundaries leaves Sam in a rage. A new vocation is in store for Jason after he warns Crystal's family about a potential drug raid. Jesus has something more to offer than just an interpersonal relationship when Lafayette comes to him for help. Hoyt ignores his mother and entertains plans for a future with Jessica.
With True Blood going away, how are you ever going to survive? Does it help that the Venture Bros. are coming back? Tonight's episode is called "The Diving Bell Vs. The Butter-glider," and Jackson Publick says the second half of the season is even better than the first half was.
There's also a new episode of The Gates on ABC at 10 PM, called "Surfacing":
A grim secret has been buried and forgotten in the sodden banks of the river . . . or has she? Nick's past once again comes back to haunt him, and this time the demons are more real than he could fathom. Claire fears her own family is in jeopardy when Emily's Aunt Nancy shows up with a social worker in tow, asking pointed questions about life in the Radcliffe home. Dana realizes that a lovesick brother is a miserable person to live with, and endeavors to reunite Charlie and Andie. But the teen romance is put on hold when someone — or something — plots to torment the Monohan family.
There's also a special on BBC America at 6 PM, called Britain's Biggest Beasts:
Big mammals like moose, wolves and bears once roamed and hunted in the Scottish Highlands but now that deer and sheep have decimated the landscape for over the past 200 years, one man has a vision to restore the Scottish Highlands back to its natural state by building Britain's first wilderness game reserve. Paul Lister, owner the 25,000-acre Alladale estate in the heart of the Scottish Highlands, believes the introduction of these big predators is the natural way to restore the landscape and since buying the property has achieved a great deal by planting 80,000 new trees. But Paul knows the next stage is to introduce herbivores and Caledonian pine trees. Once the Highland has started to heal itself, other Scottish wildlife such as capercaillie (grouse), red squirrel, and osprey will be brought back. But the biggest challenge is getting the local farmers and other estate owners on his side. They have to be convinced that wolves and bears can once again roam the highlands without endangering their livelihoods.
Movies:
Syfy is showing a slate of horror-ish movies all day long. The Avengers (the one with Uma Thurman) is on PLEX at 6:20 AM. Also on PLEX: Superhero movie Blankman, at 11:05 AM. The first two Back To The Future films are on A&E, starting at 11 AM. And the Lord Of The Rings trilogy is on TNT, starting at 12:30 PM. X-Men: The Last Stand is on FX at 4 PM, followed by Cloverfield and Jumper. Aliens is on G4 at 4 PM, followed by RoboCop. Star Trek: Generations is on BBC America at 5 PM.