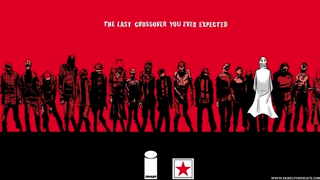 For its entire 12 year run so far The Walking Dead comic has been written by one person: Robert Kirkman. That's about to change, however—for the first time, another writer is coming to the comic, and it's none other than Saga and Y: The Last Man's Brian K. Vaughan.
The one-shot issue was announced at the keynote for Image Expo earlier today, with Vaughan taking to the stage to confirm the news. The collaboration is part of a wider deal between Image and Vaughan's digital comics service Panel Syndicate. The "pay-what-you-want" site set up by Vaughan and artist Marcos Martin currently offers two ongoing series, The Private Eye, written by Vaughan, and Albert Montey's Universe!—and in exchange for writing an issue of The Walking Dead, Vaughan has given Image the right to bring Private Eye to print for the first time.
As part of the deal, the Vaughan-penned issue of The Walking Dead will only be available digitally on Panel Syndicate when it releases this November, with fans allowed to pay whatever price they wish to get a copy.
[Via Entertainment Weekly]