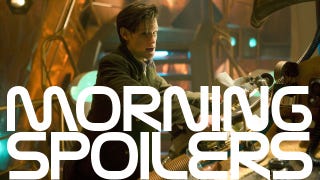 Morning Spoilers
If there's news about upcoming movies and television you're not supposed to know, you'll find it in here.
Bryan Singer confirms a major returning mutant in X-Men: Days of Future Past. A Godzilla producer hints at Gareth Edwards' vision for the iconic monster. Iron Man gets messed up in a brand new promo image. And Samuel L. Jackson explains how Mace Windu could be back in Star Wars: Episode VII!
It's all spoilers from here on out!
Top image from Doctor Who.
Iron Man 3
Here's a new promo image showing Tony Stark looking rather the worse for wear. [Coming Soon]
---
X-Men: Days of Future Past
Director Bryan Singer had already heavily hinted this would happen, but he has now officially confirmed that Hugh Jackman will indeed be back once again as Wolverine for the X-Men: First Class followup:

---
The Wolverine
Comics writer Mark Millar, who now serves as 20th Century Fox's official creative consultant for all things Marvel, offers some praise for Hugh Jackman's latest solo effort as Wolverine in his list of his most anticipated movies for 2013:
In 2013? Kick-Ass 2. There can be only one. Also buzzed about Superman and - the big surprise, I think - The Wolverine. The script is amazing and [James] Mangold is such a brilliant director. Seen the first 10 mins and it looks like David Lean doing a superhero movie. This the one that's going to surprise people. This and First Class were Year Zero for the Fox Marvel movies as far as I'm concerned.
---
Star Wars: Episode VII
Samuel L. Jackson really seems eager to return as Mace Windu, and he points out that we didn't really see a body in Episode III:
With the way we last saw Mace Windu ...
He just went out the window.

He could still be alive.
He just went out the window. He's a Jedi! He could have landed on a ledge.

In "Attack of the Clones," Anakin jumps out of a speeder and lands on another speeder. Why couldn't have Mace Windu have done the same thing?
I could have done any of that. And I'm down with that.
He also says he'd be up for Unbreakable 2. Tons more at the link. [Huffington Post]
---
Godzilla
Producer Dan Lin discusses Monsters director Gareth Edwards' upcoming new take on the venerable monster movie franchise:
We're planning to film in March. We are in deep pre-production. Gareth [Edwards] has really mapped out his vision for the movie, you saw the teaser, but Gareth thanks to Thomas Tull's help he took over a whole stage on the Warner Brothers lot and not only showed the teaser you saw, he had some models built of Godzilla, he had art decorated all over the soundstage, he had pre-vis of some of the big action sequences in the movie. So we're in deep pre-production and Gareth's vision of the movie is really exciting it's a true re-boot of Godzilla. And you saw from the Comic-Con footage it is a grounded, realistic version of Godzilla. What would happen if Godzilla came into our world today?
[Collider]
---
Unwind
Constantin Film, which has a hand in producing all of the Resident Evil movies, has reportedly acquired the film rights for Neal Shusterman's 2007 dystopian novel set in a future world where parents can choose to turn their teenage children into involuntary organ donors, a process known as unwinding. Here's a summary of the original book:
Connor's parents want to be rid of him because he's a troublemaker. Risa has no parents and is being unwound to cut orphanage costs. Lev's unwinding has been planned since his birth, as part of his family's strict religion. Brought together by chance, and kept together by desperation, these three unlikely companions make a harrowing cross-country journey, knowing their lives hang in the balance. If they can survive until their eighteenth birthday, they can't be harmed — but when every piece of them, from their hands to their hearts, are wanted by a world gone mad, eighteen seems far, far away.
[Variety via Coming Soon]
---
Doctor Who
Steven Moffat discusses at length just how the addition of Jenna-Louise Coleman changes the dynamic between the Doctor and the companion:
She fit beautifully with Matt in a very different way from Karen [Gillan]. For one thing, she's little and so Matt is suddenly terribly tall. It feels like a bigger age gap somehow. He suddenly is the irascible older man, which Matt does extremely well despite the fact he's 30. As for the twist, I didn't exactly know how they'd connect in the first draft [of Jenna's first episode, "Asylum of the Daleks"] but I did quite early on. I pitched the idea of how we were going to do all this far in advance and I'm saying no more than that.
He also discusses what returning writer Neil Gaiman will do with the Cybermen in the season's penultimate episode, as well as some general hints for the second half of the season:
I wanted to make them creepier, and a bit more active. I thought we had gone as far as we could with the stumpy Cybermen. I wanted to do the colder, deadlier version and I was interested in Neil giving it a ghost-story feel. Neil's a good ghost story writer.

The first five episodes of the season were promoted as a series of movies, complete with theatrical posters. Will that continue?
We're really pushing that very hard. It's nearly killed us doing it. We're convalescing. But wait until you see the range. We've got the best alien planet we've ever done. We've got a submarine. Seriously. There's even a proper modern urban thriller in London.
There's tons more at the link. [Vulture]
---
Fringe
Here are some promo photos for episode ten, "Anomaly XB-6783746", which airs tomorrow night. [SpoilerTV]
And here's a promo for the episode.

Finally, here's a video that really hammers home the importance of Donald, whoever he might be. [Give Me My Remote]

---
S.H.I.E.L.D.
Chloe Bennet, who currently plays record company assistant Hailey on Nashville, has reportedly become the sixth and final regular cast member on ABC's S.H.I.E.L.D. She will play Skye, and here's a description of her character:
Skye [is] a confident woman who is slightly obsessed with superhero culture and the shadow organizations that exist within it. She's edgy and can out-talk anyone with her unflappable nature.
Bennet joins Stargate Universe's Ming-Na as Agent Melinda May, Killing Lincoln's Brett Dalton as Agent Grant Ward, Hollyoaks actress Elizabeth Henstridge as Agent Gemma Simmons, The Fades star Ian De Caestecker as Agent Leo Fitz, and of course the incomparable Clark Gregg as Agent Phil Coulson. [Live Feed]
---
American Horror Story: Asylum
Here are some promo photos from the upcoming tenth episode, "The Name Game." [SpoilerTV]
And here's a description for episode twelve, entitled "Continuum." Hopefully that title is the early clue that we're heading towards a crossover between American Horror Story and the Canadian time travel show. After all, I don't think American Horror Story will be able to maintain its ever-increasing levels of crazy without occasionally raiding other batshit crazy shows and siphoning off their insanity... you know, like in Spaceballs, except not with oxygen. Sorry, sorry, I think there was a plot synopsis I was going to post:
A deadly new inmate threatens Sister Jude's chance of release from Briarcliff. Grace's obsession with the aliens turns violent.
---
Beauty and the Beast
Covert Affairs actor Sendhil Ramamurthy has reportedly been cast as Gabe, described as "a new assistant district attorney who has spearheaded the search for the town's vigilante." The character will debut in the fifteen episode, and showrunner Sherri Cooper describes him thus:
"He's super ambitious and power hungry and it'll be another obstacle [for Kristin Kreuk's Catherine]. And, of course, he'll be dashing and charismatic. He'll juice things up."
[TV Guide]
Meanwhile, Brendan Hines, who I suppose is technically best known as playing some dude on that show Lie to Me — but who I choose to know as Tyler from The Middleman because The Middleman was awesome — has been cast as a police department psychologist who tries to get inside Catherine's heads. Sherri Cooper says key questions Catherine will have about this character are as follows:
"Who does he work for? How much does Catherine open up to him? Does she trust him?"
Hines will debut in the show's midseason premiere on January 24. [TV Line]
---
Additional reporting by Amanda Yesilbas and Charlie Jane Anders.