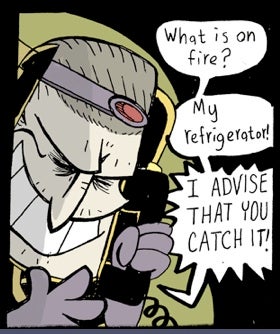 Ryan Estrada is perhaps best known for his prolific webcomic guest strips, but he's back with a webcomic of his own: Chillin' Like Villains, a daily webcomic about supervillains who simply aren't very good at their jobs.
Estrada has provided dozens of guest strips for other creators' comics over the years, as well as creating his own strips Aki Alliance, Frank, and Welton Colbert. Chillin' Like Villains follows inept supervillains who have to compensate for their inferior evildoing, whether by getting a day job or adopting a popstar as their nemesis instead of a superhero. He has launched with the story "Real Heroes," in which a past-his-prime supervillain (who takes his fashion cues from MODOK) decides to take on his city's real heroes: the firefighters.
Chillin' Like Villains updates daily, but impatient readers can purchase a hard copy or download of the entire anthology of supervillainry.