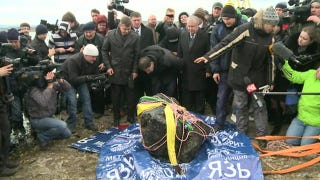 Divers working in Lake Chebarkul in central Russia have pulled up a 1,255 lb. (570 kg) chunk of rock they suspect is the meteorite that wreaked havoc above Chelyabinsk earlier this year. But as they were putting it on the scale, it collapsed into three different pieces.
To date, scientists have uncovered more than 12 fragments from the lake. If confirmed, however, this particular piece would be the largest yet recovered. It sat at a depth of 42 feet (13 m), below a 20-foot-wide (6 m) gaping hole in the ice above it (the ice is now melted as it's early autumn).
According to BBC reports, live footage showed a team pulling out a 5-foot long (1.5 m) rock from the lake after wrapping it in a special covering and placing it on a metal sheet while it was still underwater. The fragment broke up into at least three large pieces as it was lifted from the ground with the help of levers and ropes.
Scientists caution that it'll take some time before they can verify that this rock is indeed the one that exploded over Chelyabinsk on February 15th.
Image: BBC.
Related: Chelyabinsk Meteor May Be Part of Larger Pack Threatening Earth | The shockwave from the Chelyabinsk meteor circled the Earth — twice!