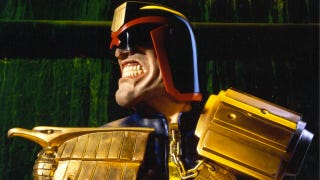 Looks like the law was laid down over on the new Dredd movie. Rumor has it, the studio wasn't happy with how director Pete Travis (Vantage Point) was putting the film together, and they've kicked him out of the editing suite.
The L.A. Times is reporting that creative differences have driven Travis out of the editing room, and now screenwriter Alex Garland May (28 Days Later) is editing the film. Unnamed sources told the Times that
creative disagreements with producers and executives in charge of the film reached a boiling point... sources said it arose when Travis and producers and executives in charge of the production did not see eye-to-eye on footage Travis was delivering."
Not only that, but Garland is pushing for co-director credit on the film, even though he didn't direct any of the actual film — although there could be reshoots, and it's not clear who would direct those. [L.A. Times]