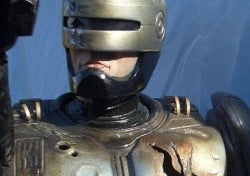 Is Peter Weller close to gainful employment again? That's what people are asking, after noticing the mention of a familiar film franchise on a recent MGM press release, suggesting that a new Robocop movie may be in the works, years after the failure of Robocop 3 (and the little-remembered TV show).
Announcing Mary Parent as MGM's new Worldwide Motion Picture Group Chairperson, a press release for the company ended with a list of franchises they're currently working on:

With the appointment of Parent, MGM will enter its new phase of evolution by focusing on its major movie franchises highlighted by JAMES BOND and PINK PANTHER sequels, THE HOBBIT, THOMAS CROWN AFFAIR 2, THE OUTER LIMITS, ROBOCOP, DEATH WISH and FAME, among others.

Ignoring the idea that someone thought that it wasn't enough to resurrect Fame and that it really needed franchise attention, it was the mention of the previously unknown Robocop project that got tongues wagging. It may have missed the window of anything-goes-to-keep-America-safe topicality, but in a market full of blockbuster remakes and nostalgia, it was only a matter of time before this came back. I can only hope that they're going to base it on the Alpha Commando era...
Mary Parent Named Chairperson, Worldwide Motion Picture Group Metro-Goldwyn Mayer Studios, Inc. [PR News Wire]