The next movie for Robert Rodriguez was inspired by an artist known for his sexy, wild fantasy art, Frank Frazetta. Here's a collection Frazetta-esque concept art for Rodriguez's new flick, titled Fire And Ice.
Rodriguez admitted that he would be channeling the look and feel of Franzetta's art for the entire film: "I want it to look like you just stepped into one of his paintings, where you get to see his world, and how he saw people, anatomy, and composition and color," he explained to Entertainment Weekly.
He hopes to start production in 2012, and here's the official synopsis:
From his stronghold in Ice Peak, the evil Nekron sends forth a wave of deadly glaciers, forcing humanity to retreat to Fire Keep, a kingdom ruled by a generous king. When King Jarol's daughter Teegra is kidnapped, young warrior Larn teams with the mysterious and legendary Dark Wolf, to rescue the princess and the realm from Nekron's evil sorcery.
G/O Media may get a commission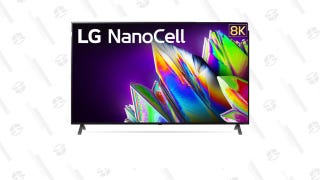 LG 75-Inch 8K TV
To look at more concept art head over EW.