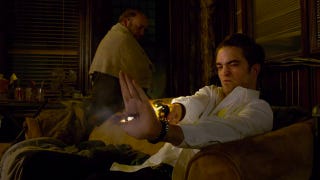 Trailer Frenzy
A special place to find the newest trailers for movies and TV shows you're craving.
The full (French) trailer for David Cronenberg's dark film Cosmopolis is out, showcasing a whole lotta sex and glimpses into the crappy "not-too-distant" future. Watch as rich boy Robert Pattinson sinks into the gritty abyss of future New York as he rides his limo in search of a haircut.
Cosmopolis will be premiering at the Cannes Film Festival, which seems like the perfect place to debut this melancholy sex romp. But we'll have to wait a little longer for the US premiere. Here's the official synopsis:
New York City, not-too-distant-future: Eric Packer, a 28 year-old finance golden boy dreaming of living in a civilization ahead of this one, watches a dark shadow cast over the firmament of the Wall Street galaxy, of which he is the uncontested king. As he is chauffeured across midtown Manhattan to get a haircut at his father's old barber, his anxious eyes are glued to the yuan's exchange rate: it is mounting against all expectations, destroying Eric's bet against it. Eric Packer is losing his empire with every tick of the clock. Meanwhile, an eruption of wild activity unfolds in the city's streets. Petrified as the threats of the real world infringe upon his cloud of virtual convictions, his paranoia intensifies during the course of his 24-hour cross-town odyssey. Packer starts to piece together clues that lead him to a most terrifying secret: his imminent assassination.
[via AlloCine]