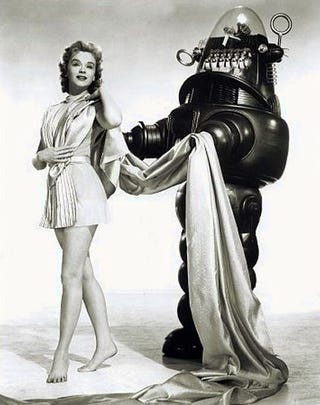 It's not been a good couple of months for fans of SF theme music. Following last month's death of electronic music pioneer Bebe Barron, one of the composers for the 1956 Forbidden Planet movie, May 15th saw the sad passing of Alexander Courage, the man who gave the world the theme music for the original Star Trek. More information about both men after the jump.
Barron's soundtrack for Forbidden Planet, co-written with her husband and musical partner Louis, was just one stop on a career that also included being the first artists to put electronic music onto tape (the 1950 piece Heavenly Menagerie, constructed pre-sampler by physically cutting and pasting together pieces of tape), collaborating with artists like John Cage, and having their music described by no less a music critic than Anais Nin as sounding like "a molecule that has stubbed its toes." Following Louis' death in 1989 (the couple divorced in 1970, but continued to work together), Barron continued to create music and was the first Secretary of the Society for Electro-Acoustic Music for the US. She was survived by her son, Adam.
Alexander Courage's career started as a composer for radio shows, before moving onto the role of arranger and orchestrator for MGM Studios in the 1950s, working on movies like Showboat and Seven Brides for Seven Brothers. As well as his classic theme for Star Trek, Courage also contributed music for Lost in Space, Voyage to the Bottom of the Sea, Superman IV: The Quest for Peace and co-wrote the theme to The Waltons. So, yes, he's one of the ones to blame when you get that stuck in your head for weeks.
Star Trek Composer Alexander Courage Dies [Digital Spy]
Scorekeeper Says Goodbye to Forbidden Planet Co-Composer Bebe Barron [Aint It Cool]