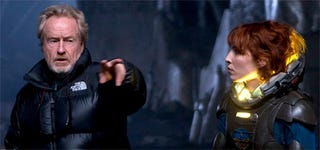 Mixed Prometheus reviews certainly haven't stopped director Ridley Scott from climbing back on the genre movie horse. In fact, he's just signed a huge deal to produce and or direct six more genre films in Ireland.
Slashfilm is reporting that Scott signed a deal with Focus Features International, linking Scott Free London to a large slate of genre movies. Ridley will oversee six low budget genre movies ranging from horror and thrillers to science fiction. Each film will shoot in Northern Ireland - which is gorgeous, so that should provide a neat backdrop.
Looper, Sinister, Paranormal Activity, and Insidious are all great films that proved you don't need massive budgets to be entertaining. We can't wait to see what Ridley Scott will produce on a smaller scale.