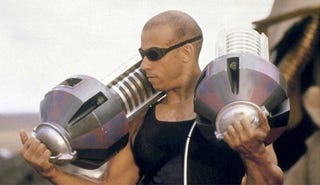 Now that Riddick 3 is being made at Universal, there's one important question to ask. Will the third film be a continuation of the Necromonger-focused Chronicles story line, or a return to the Pitch Black-style action? Rumors say the latter.
Hollywood Reporter has the inside scoop on the new Riddick plot line:
Though billed as a back-to-basics approach to the character popularized by Diesel, the script features the character — the most wanted man in the galaxy — left for dead on a barren alien planet, dealing with "trisons" (three-legged bisons) and "mud demons." He must then contend with two squads of bounty hunters, one of which ride rockets called jetcycles.
While we're still extremely curious about the mysterious half dead Necro race, and we really want to see Riddick "keeping what he kills" i.e. the Lord Marshall's seat at the head of the Necro fleet. We have no problem with some good, old fashioned Furyan death-dealing. As long as Tombs comes back.