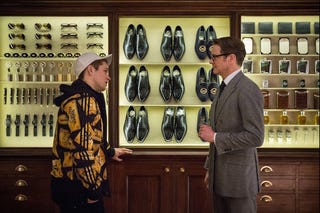 All hail the next generation of spy movies. The gleefully, insanely violent Kingsman, which hit theaters for Valentine's Day this year, is getting a sequel. This fills the Emma Peel/John Steed sized hole in my heart.

The Wrap reports that, even though there's been no announcement from Fox and there's no official schedule for it, there will be another Kingsman. Just for diversity in spy movies, this is great. The next James Bond movie, SPECTRE, will likely continue the darker tone started by Casino Royale — although, with that name and with how Skyfall turned out, maybe edging into the fantastical — and Matt Damon is returning as Jason Bourne, so this infusion of new blood is exciting.
We can only hope that Matthew Vaughn, whose vision made that movie so much fun, will be able to return.
---
Contact the author at katharine@io9.com.