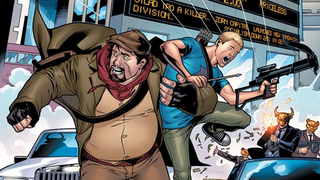 If you've ignored us in the past when we've excitedly reminded you that you should be reading Valiant's Archer & Armstrong, well, shame on you for starters. But also, good news! You'll get another chance to listen to our exultations soon: It looks like Archer and Armstrong are coming back!
Ever since their 2012 revival wrapped up late last year with Archer & Armstrong #25, we've been hankering for more awesome adventures with Valiant's lovable team-up between a surly Immortal and the young, repressed assassin originally sent to kill him. But with Free Comic Book Day tomorrow and the release of Valiant's promotional 25th Anniversary Special, we now have a teaser for what looks like a brand new Archer & Armstrong series:
The details are incredibly sparse — no information on whether Fred Van Lente and Clayton Henry will return or whether there'll be a new creative team, or even if the comic will be an ongoing book for Valiant or a miniseries. But given that there are plans for a movie within Valiant's newly-unveiled shared cinematic universe, it kind of makes sense that there'll be a new ongoing series featuring the two.
And seriously, you should read Archer & Armstrong. They punch nuns. They fight UFOs while riding dinosaurs. It's so good.
[via Bleeding Cool]