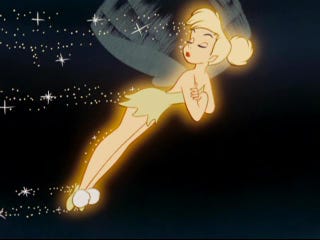 Congratulations — I guess? — to Tinkerbell, the latest character to get the live-action treatment from Disney. And Reese Witherspoon will be playing her.
Tink's actually been kicking around for awhile. We first heard about it back in 2010, when it was supposed to star Elizabeth Banks and McG was set to direct. In 2012, McG said the project was "healthy."
This version seems to only share a name with that one. The Hollywood Reporter says that there's no director on board yet and that Victoria Strouse (Finding Dory) has been hired to write the script. McG's movie had a script from Marti Nixon (Friday Night Lights).
We can guess that Tink got a revival along with Disney's big push toward live-action versions of its classic animated tales. And this one's supposedly in the vein of the Maleficent-style "story you've never heard!!!" live-action Disney tale.
There's no proposed release date yet, so we can only hope that Disney's live-action mania will die down before Tinkerbell — a character who doesn't even talk in the original story — gets her own origin tale.
---
Contact the author at katharine@io9.com.