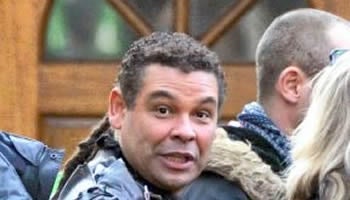 Will Red Dwarf's return to television include an unexpected crossover with Britain's favorite soap opera? New leaked info suggests that the whereabouts of Lister may be more clear than everyone thinks. Possible spoilers ahead.
Since Red Dwarf went off the air, actor Craig Charles has joined the cast of British soap Coronation Street as cab driver Lloyd Mullaney... which may explain why the Dwarf crew were filming on Corrie sets recently, showing Charles (playing Mullaney or his Dwarf character Dave Lister. We don't know) being abducted from the soap's iconic pub by the rest of the crew of Red Dwarf.
Also seen on the set of the soap, a new version of the series' "Starbug 1" shuttle... except, this time, it's turned into a smart car:

Interestingly enough, the Twitter of Dwarf star Robert Llwyllen suggests that all is not as it seems:
[I]t's not about Lister on Corrie, it's so not that.
Apparently, despite the leaks, mystery still rules supreme on what we should expect when Red Dwarf returns in April.
Red Dwarf cast land on Coronation Street to abduct Craig Charles [Click Liverpool]