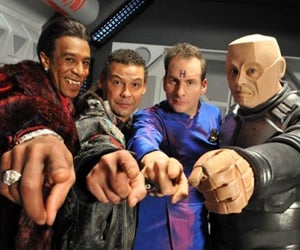 After last year's Back To Earth mini-series, is Red Dwarf coming back for good? The series' Robert Llewellyn told fans this weekend that scripts for a tenth season of the SF comedy have already been commissioned.
Llewellyn made the announcement at this weekend's Dimension Jump '09 Red Dwarf fan convention, twittering it to the internet soon after:
Series 10 of Red Dwarf announcement just been made at DJ 09. To clarify the scripts have been commissioned, wont be filming til 2010
Within a few hours, he was clarifying that last clarification:
Want to re-state that UKTV, aka Dave have commissioned Doug Naylor to write scripts, still a long way to go before it's all official
So... there isn't officially a tenth season yet, but Dave is considering the idea seriously enough to pay for scripts. Guess we should wait and see how good DVD sales for Back To Earth are in the US first...
Red Dwarf to get a tenth series [Liverpool Daily Post]