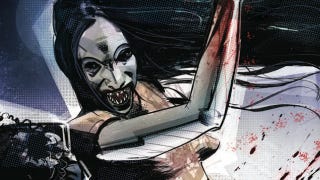 Courtesy of IDW Publishing, here's an exclusive sneak peek at the next issue of the 30 Days of Night ongoing series by writer Steve Niles and extremely idiosyncratic illustrator Sam Kieth (whose work we recently discussed on this very site). 30 Days of Night #4 hits stores this Wednesday, January 25 — here's a plot synopsis:
30 Days of Night #4
Steve Niles (w) Sam Kieth (a) Kieth, Davide Furno (c)

Fright-master Steve Niles continues his all-new 30 DAYS OF NIGHT ongoing series, with warped genius Sam Kieth (creator of The Maxx) joining in the bloodletting! Familiar faces emerge from Barrow as we learn more about our all-new cast of vampires!