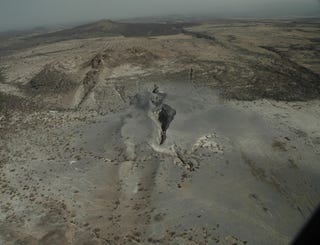 Four years ago, a volcano opened this massive crack between the African and Arabian tectonic plates in Ethopia. New research shows it could be the beginning of a new ocean shoreline.
According to New Scientist:
The magma inside the volcano did not reach the surface and erupt as a fountain of lava – instead, it was diverted into the continental rift underground. The magma cooled into a wedge-shaped "dike" that was then uplifted, rupturing the surface and creating a 500-metre-long, 60-metre-deep crack . . . Eventually it could reach the east coast of Ethiopia and fill up with seawater. "At some point, if that spreading and rifting continues, then that area will be flooded," says Ken Macdonald, a marine geophysicist at the University of California, Santa Barbara, who was not involved with the study.

Ebinger says this won't happen any time soon – it would take around 4 million years for the crack to reach the size of the Red Sea.
[via New Scientist]