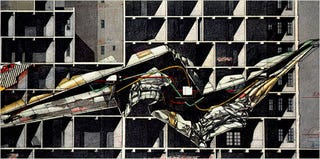 Lebbeus Woods, the architect who died this past week in New York, might be best known by science fiction fans for suing Terry Gilliam's Twelve Monkeys for allegedly copying one of this designs - that weird suspended chair that Bruce Willis sits in. But his strange designs were science fictional in so many other ways, and his drawings of urban spaces often appear to be attacked by weird parasitic presences. He also worked as a designer on Alien 3, although his designs don't appear in the final film.
As Geoff Manaugh wrote in BLDGBLOG when he interviewed Woods back in 2007:
Woods's work is the exclamation point at the end of a sentence proclaiming that the architectural imagination, freed from constraints of finance and buildability, should be uncompromising, always. One should imagine entirely new structures, spaces without walls, radically reconstructing the outermost possibilities of the built environment.
If need be, we should re-think the very planet we stand on.
Check out some more of his amazing designs below…
\