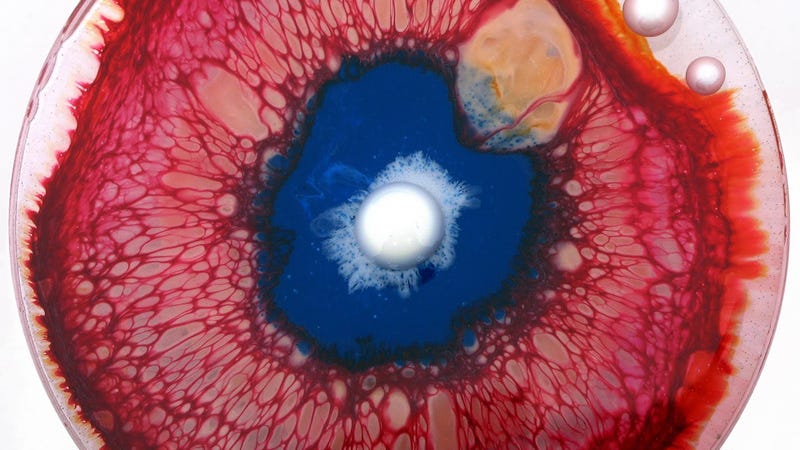 Can you guess the subject of this photograph? It's a bloodshot alien eyeball! Just kidding, although all that red totally resembles vasculature don't you think?
Don't worry, the real answer is just as awesome: believe it or not, this is actually a Petri dish, created by artist Klari Reis.
Reis uses individually-crafted dishes like the one up top (although each one is incredibly unique-looking), and combines them into much bigger installation pieces like the one you see below. This particular collection of dishes is described on her website:
Colored life forms dance across the wall in this installation project comprised of groups of 150, 60, or 30 hand painted actual plexiglass petri dishes. Klari uses reflective epoxy polymer to depict electron microscopic images of natural and unnatural cellular reactions. The effect is hopeful, almost playful, belying the serious nature of the subject matter. Supported by steel rods, the paintings sit at varying degrees of distance from the wall, evoking depth and motion.
If I had to guess, I'd say Reis is using 35, 60, and 100 mm dishes in the piece featured here, but she tends to mix things up in her other pieces (and to be completely honest, the individual dishes really stand on their own). If you're into this sort of stuff, I would definitely check out on her blog — where you'll find a new dish photographed for every day of the year — before visiting her website, where you'll find pictures of some of her bigger projects.
I seriously can't get enough of these things — it's art imitating life imitating art! Who knew culture dishes could be so meta?
All images by Klari Reiss