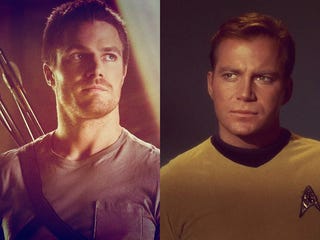 What do Star Trek and Arrow have in common? It's not a trick question; the show's Executive Producer tells us about the secret connection that popped up in the most recent episode. Plus he tells about the one reference that no one has yet caught!
After reading our recap of the latest episode of Arrow, the show's Executive Producer Marc Guggenheim stopped into the comments to confirm the post's premise: The episode was, indeed, a deliberate callback to the tangled relationship between the movie's villain and Captain Kirk:
Thank you for getting the Khan allegory. Slade's line — "I'm going to leave you as you left me" — is a deliberate reference to Star Trek II: The Wrath of Khan, one of my all-time favorite movies: ("I'm going to leave you as you left me, as you left her..."). You're the only reviewer/recaper I've seen who picked up on it.

Now if only someone could catch all the "Wiseguy" references in the series, we'll be in business...

Best,

Marc Guggenheim
Did you catch any other references? Call them out in the comments right now!