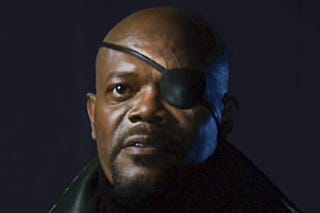 Hoping to see Samuel L. Jackson's Nick Fury in action in next year's Iron Man 2? Jackson is hinting that it may be time to lower your expectations, or else prepare for some major disappointment.
Talking to MTV's Splash Page blog, Jackson said that Iron Man 2's Fury won't be the super spy that we've been hoping for:
Not this time, not yet... We still haven't moved Nick Fury into the bad-ass zone. He's still just kind of a talker.
With Jackson signed to a nine-picture deal with Marvel Studios, maybe it's not surprising that they're choosing to wait before unleashing the full action Jackson, but if we're not seeing a bad-ass Fury by the time that 2012's Avengers rolls around, then something has gone horribly wrong.
Sam Jackson Says Nick Fury Won't See Action In 'Iron Man 2' [MTV Splash Page]