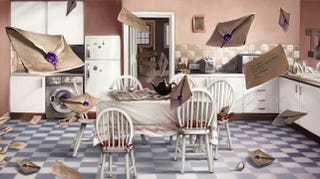 It's been a long wait, but J.K. Rowling's interactive Harry Potter site Pottermore is finally sending out invites. Just be prepared to wait on the online version of Platform 9 3/4 for a little while first.
After spending several months in beta, Pottermore is now open to registration. To avoid overtaxing the servers, however, the site is activate accounts a handful at a time, so you might have to wait awhile before you can get sorted into your house and step into the immersive environment of Hogwarts. Unfortunately, it seems that, at least at this time, you also can't pick your own user name.
While you're waiting for your own virtual owl to arrive, you can read reports from the Pottermore beta.
We're opening to everyone [Pottermore via reddit]