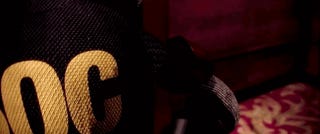 In a city run by corrupt sock monkeys, the forces of Mega Plush patrol the streets, knocking the literal stuffing out of any toy that stands in their way.
Matt Burniston directs the Mega Plush series of short films, introducing us to four stuffed animal vigilantes. The first film gives us the leader Mega Bear:
While the second focuses on the libidinous knife-wielder Mega Tiger:
The third and fourth films promise to center on Mega Elephant, who slices through Sock Monkeys with his katana, and demolitions expert Mega Gorilla. They're fun shorts, and the stuffed animal nature of the characters adds a bit of humor to their Mega Plush violence.
[The Mega Plush via Vimeo Staff Picks]