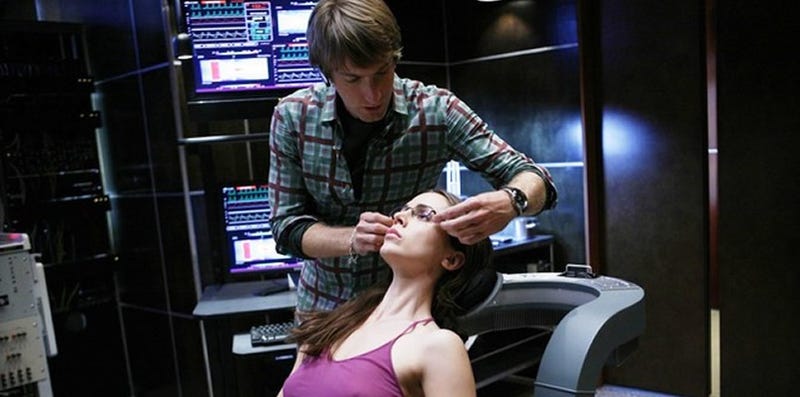 Next weekend sees the kick off of con season with this year's New York Comic Con. If you're in the area, there are more reasons to attend than just comics... although they have those, too.
We'll be at the con, of course, with an intrepid team led by the feisty and talented Meredith Woerner, but if you'd rather experience the event yourself as opposed to through this very site, here are some of our picks for panels to look out for.
Friday
Both Marvel and DC hit the ground running in the con's first day, with three panels each devoted to their comic lines (Marvel has panels for War of Kings, X-Men and Dark Reign, DC has a Vertigo imprint panel, the first of their superhero-centric DC Nation panels, and a panel devoted to Superman), as well as panels for DC's Brave And The Bold TV show and Wonder Woman animated movie. Indie publishers IDW, Boom!, Image and Dark Horse also have panels throughout the day, and there are various "NYCC Classes" panels to teach you how to be a comic creator yourself through the day (and, indeed, the convention). There are even a couple of tech-centric comic panels: Comics for iPhone and the Big Small Screen and, at 3:15 in room 1a21, the amusing-sounding The Business of Webcomics! LIVE!:
Watch PVP Online's Scott Kurtz take thematic suggestions from the crowd as he, on stage, creates a brand new online property while Penny Arcade's Robert Khoo simultaneously turns these concepts into monetizable business models. Take notes!
Don't worry, though; there's plenty to see even if the thought of monetizing things drives you crazy. In terms of movies alone, there are panels for Big Man Japan, Alien Trespass, Yatterman and the premiere of Futurama: Into The Wild Green Yonder. I'm kind of curious about Not Quite Hollywood: The Wild, Untold Story of Ozploitation, however:
Not Quite Hollywood is the wild, untold story of the Ozploitation movement - a time when Australian cinema showed the world a full-frontal explosion of sex, violence, horror and foot-to-the-floor action! Packed full of outrageous anecdotes, lessons in maverick filmmaking, and a genuine, infectious love of Australian movies, Not Quite Hollywood is a journey through Aussie genre cinema of the '70s and early '80s - an unjustly forgotten cinematic era unashamedly packed full of boobs, pubes, tubes and even a little kung-fu.
There's even some audience participatory panels that we're interested in; lightsaber lessons in Saber Academy, or how to escape the undead in Zombie Survival? Count us in.
Saturday
Call us old-fashioned, but I refuse to believe that Vampire Cowboys isn't going to be high on most people's list of things to see on the con's second - and busiest - day:
Vampire Cowboys is an award-winning theater company that creates and produces new works based in stage combat and dark combat with a comic book edge.
Of course, you may be more interested in the Robotech, Michael Uslan/Dark Knight or Warhammer panels happening at the same time... Or the 11am Watchmen/Terminator Salvation and Friday the 13th panel, complete with Dave Gibbons, McG and most likely some clips that haven't been seen elsewhere. Also appearing on Saturday are the Robot Chicken creators, the people behind The Venture Bros., Eve Myles and Euros Lyn from Torchwood and improvisational skit group Start Trekkin'. There's also a premiere for Afro Samurai: Resurrection , some new footage from the perpetually-upcoming DC Universe Online game, a panel for the new Dead Like Me movie, the director of The Surrogates talking about his work, and... well, something called the Emotes:
Come and hang out with this crew of cyber-characters - - each with their own emotional superpower! The Emotes aren't afraid to express their feelings, and they certainly aren't afraid to get their groove on. Meet these life-sized characters and witness them perform for you. Then, find your own groove and express yourself! Emotes contests and games await you. Try on an Emotes costume, and transform yourself into your favorite Emotes character.
Only at con.
Sunday
Traditionally the slowest con day, NYCC's Sunday is bolstered by five big panels (That's in addition to the many other comic panels - including DC's traditional Sunday Conversation with Dan DiDio, which is always worth dropping into - and kid-centric activities on the con's Kid Day): Chuck's creator Josh Schwartz and star Zachary Levi show up to talk about how awesome their show is, the producers of Wanted are promising "exclusive footage from the upcoming video game... and teasers about the next Wanted film," Dave Gibbons discusses photos from the set of the Watchmen movie with photographer Clay Enos and - most excitingly - there's the premiere of Dollhouse:
Joss Whedon and Tahmoh Penikett guide fans through a sneak peak at the first act of the highly-anticipated premiere episode of Dollhouse scheduled to launch on Friday, February 13th on FOX.
This is the one that's making we west-coasters very, very jealous indeed. So much so that even the cast of Fringe showing up takes second place in our affections.
There's a lot more happening at the convention; you can find a complete line-up on the show's official site, or just wait until Friday when our coverage begins in earnest.