Morning Spoilers
If there's news about upcoming movies and television you're not supposed to know, you'll find it in here.
Spoiler invasion! New videos show the contrasting fighting styles of Dr. Manhattan, Chun-Li and Caprica Six. Plus there are revealing pics from Lost, Transformers, Dollhouse and Torchwood, and new scoop on Heroes, Fringe and Dragonball.

Watchmen:
Now that you've seen some actual clips from the movie, here's yet another TV spot. Comedian giggling, giant Dr. Manhattan grabbing someone, and a few other snippets.


Street Fighter: The Legend Of Chun-Li:
Here are some new official images showing more of Kristen Kreuk in action. [Cinemablend]

G/O Media may get a commission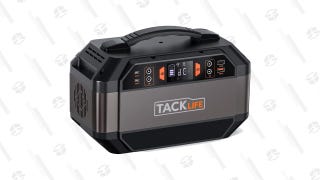 Tacklife Portable Solar Generator
And here are a whopping five clips:


Transformers: Revenge Of The Fallen:
Here are a couple of new poster images, including a better look at the Fallen. [Transformers Live]

Dragonball: Evolution:
Justin Chatwin says Chow Yun-Fat embodied the character of Roshi with a lot of comedy and is "wacky" in the movie.[DB The Movie]
Woot. Here are a couple of scenes from Friday's episode. Way to state the obvious, President Roslin!



Dollhouse:
Here are some new promo pics from episode three, which I'm guessing is the one where Echo becomes the backup singer for a pop star who's in danger, or who just needs a mentally programmed backup singer. Plus here are a few new poster images. [Dollhouse Fans]

We mentioned the other day that awesome audio producers Big Finish were planning on doing a series of audio stories based on the "lost season" of 1985, when the show was placed on hiatus and a bunch of scripts were scrapped. Now, here are more details. Irish writer Michael Feeney Callan says he had a two-part story called "The Children Of January," featuring a new race of runaway bee people called the Z'ros, who were outcasts from a dawning "parallel universe" civilization that was abandoned. That script may get included in the Big Finish season.
But the much-dreaded Pip and Jane Baker story "Gallifrey" wasn't developed at all, so it may not wind up in the new restored season. On the other hand, Christopher Bidmead's "In The Hollows Of Time" (aka "Pinacotecha") is a possibility. It takes place on a museum planet that stores "special times and places in the universe." [Den Of Geek]
Torchwood:
Here are some new (to me) set pics from the forthcoming "Children Of Earth." [AV Forums]

Lost:
And here are some set pics from episode 5x08, "LaFleur," in which Sawyer decides he and the others must tell a big lie, in order to survive. [The ODI]

In episode 10, "He's Our You," Juliet works at the Dharma motor pool and Kate joins her. And "Roger Workman Linus" makes an appearance. [SpoilersLost]
Also, there are set reports and awesome pics from some filming in the mechanics' area of Othersville for episode 5x13. Jack, Kate, Daniel and Paul Edwards were there, wearing khaki Dharma jumpsuits, along with a couple of khaki-clad Dharma "redshirts" named Casey and Elmer. Jack and friends are chased by Radzinsky (wearing a black Dharma jumpsuit) plus two black-clad thugs (identified as Thug #1 and Thug #2 on their trailers.) Radzinsky and his thugs exchange gunfire with Jack and friends, but then Jack's gang jumps in a jeep and drives off. There's also debris from an explosion at one of the Dharma houses. More pics at the links. [The ODI and Hawaii Weblog]

Fringe:
Episode 17 will be called "Bad Dreams," and will be written and directed by Akiva Goldsman, writer of I Robot, Batman And Robin, A Beautiful Mind and The Da Vinci Code. [Fringe Television]
Heroes:
Next week (as you've probably gathered) Parkman uses his non-painting-related powers to interrogate HRG. Plus our heroes learn the truth about Daphne's "death." And the next city that's in danger of blowing up soon is Washington, D.C. [E! Online]
Additional reporting by Alasdair Wilkins.