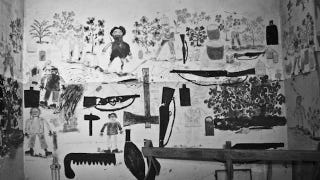 Tuscany's Villa Sbertoli was a businessman's villa before it became a sanatorium, and even long abandoned, much of its rich architecture still survives. But Romina Margherita A Diaz's photographs juxtapose the building's former grandeur with its more spartan hospital functions and adds an extra layer of spooky drama by taking her photos in black and white.
Professor Augustine Sbertoli originally owned the main building on the property, but turned it into the Nursing Sbertoli for Nervous Diseases in 1868. Patients from all over Italy, and eventually all over Europe, sought treatment at the hospital for a number of psychological and neurological illnesses. During the Fascist rule of Italy, the villa became a prison for political detainees, but was again turned into a mental asylum before being abandoned for good in 1990, although one wing still houses medical records.
Diaz has more photos of the the villa on her Behance page, but if you'd rather see this particular spot in color, Urban Travel took a video tour of the building's more intact main room. You can also read more about the villa's history at Environmental Graffiti.
Halls with silent spaces [Romina Margherita A Diaz via Environmental Graffiti via Neatorama]