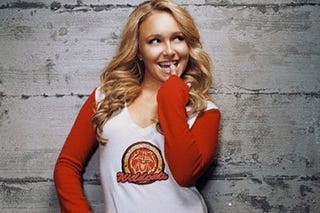 The rumors have been circulating about one of Heroes' female leads trying to leave the series before her contract is up, but Hayden Panettierre is claiming that, if the rumors are true, it ain't her.
The rumor that either Panettierre or Ali Larter was looking to leave NBC's superhero series broke last month, but Panettierre was playing it dumb when approached by Access Hollywood about the rumor:
I know nothing about that, so you got me. They are [just] rumors... We're not yet done with this season... It's the beginning of a new story so it's real exciting.
Does this mean that Larter is the actress that wants out? If so, you couldn't blame her; her original character was killed off and replaced with the less-complex (and I say that within the context of Heroes, which is hardly high-brow stuff) Tracy Strauss, who was also pretty much left in the background of the third season to date. Should we wait for Larter to deny the rumors now... Or for Tracy to be one of the cast who meets their end during "Fugitives"?
Hayden plays down 'Heroes' exit report [Digital Spy]