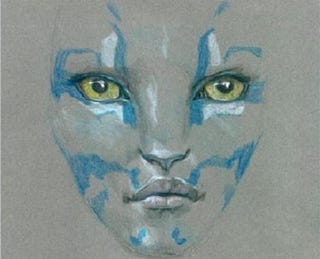 The lush moon Pandora does not belong to you, sky people. But you can own a deluxe print of original concept art, such as this early James Cameron drawing of Zoe Saldana's Neytiri. More awesome concept art images below.
Cameron's Neytiri sketch, seen above, comes individually signed by Cameron himself, with a certificate of authenticity. It's just $250 unframed or $405 framed. And there's this priceless description of Neytiri, probably from Cameron's screenplay:
Invisible to him, draped on the limb like a leopard, is a striking Na'vi girl. She watches, only her eyes are moving. She is lithe as a cat, with a long neck, muscular shoulders, and nubile breasts. And she is devastatingly beautiful - for a girl with a tail. Her name is Neytiri.
The other art works are available as Giclee on paper, Giclee on canvas, or Giclee on vistachrome, costing anywhere from $185 to $1,800. [Acme Archives Direct via Slashfilm] Additional reporting by Josh C. Snyder.
Aerial Battle:
The visual scope of the aerial battle between RDA and the Na'vi was motivated by epic military campaigns of the 20th century. By seamlessly integrating the elements of familiar gunship warfare in an otherworld environment, illustrator Ryan Church achieved in this design the film's standard of balance between reality and fantasy.
Neytiri And Thanator:
The fiercest rainforest predator appears before Neytiri in a design that depicts one of the turning points in the film's third act battle. This illustration by artist Steven Messing emphasizes a hero standing her ground against a potential threat…or to a newfound ally.
Willow Glade:
Production Designer Robert Stromberg created a hallmark environment in this design that served as a backdrop to Jake's journey through the phantasmagorical depths of Pandora. In this scene Jake follows Neytiri to the Willow Glade where he will discover the interconnectedness of all living things past and present.