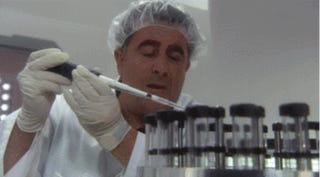 A growing collection of improper pipetting technique as depicted in movies, television, etc. For anyone who's spent time in a wet lab, thatsnothowyoupipette.tumblr.com will put a smile on your face.
Among the offending TV shows: Eureka. Eureka! (We were surprised.) Do not turn the pipette upside down. THIS BREAKS THE PIPETTE.
ALSO: A PIPETTE IS NOT A SYRINGE.
ALSO ALSO: See these. You're welcome.
ht Monica