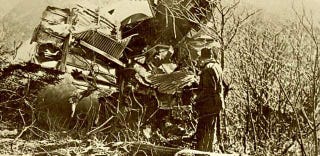 Where do you live, and what's the geekiest/coolest/neat point of interest from your area?
The picture above is from 1944: a B-24 bomber clipped the top of Camel's Hump and crashed while on a training mission. As a kid, military history appealed to me (enough so that that's what I studied in grad school), and when I discovered a locally-written history about the crash, it completely captured my attention.
The plane is actually still up there, too. Skyrocketing prices for aluminum scrap metal meant that most of the plan was cut up and hiked back down the mountain, but much of one of the wings remains in place. You can read up on the full story here.
Photo credit: Burlington Free Press