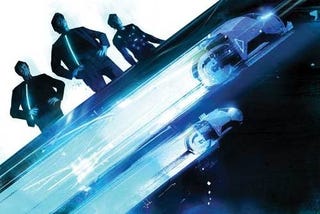 Jock is one of our favorite artists, for his work on The Losers, Batman, and especially Judge Dredd. So we're super excited to see the art he created for a new Tron Legacy prequel comic, Tron: Betrayal.
Jock did the cover art for Betrayal, which comes out November 16 from Disney. The actual graphic novel is written by Jai Nitz from a plot by Starlight Runner Entertainment, with art by Andie Tong. And here's the blurb for the graphic novel:
The storytelling picks up in the aftermath of Walt Disney Pictures' first film in its franchise TRON. Kevin Flynn is now in charge of Encom, the world's largest video game company. Kevin, a break-through game developer, has built the Grid, a digital world filled with living programs. This new virtual world is about to develop a life of its own and, in order to control it, Flynn's going to need to help of an old friend…named Tron.
Jock posted the image that Disney used for the Betrayal cover, plus a couple of other Tron sketches. Check out more of his awesome work at his site. [4Twenty.Co.UK via Geeks Of Doom]