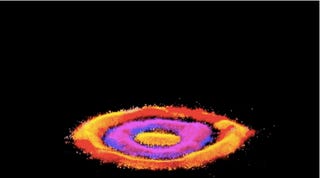 Art-photographer Fabian Oefner uses scientific concepts to create positively captivating images. In this recently released TED talk, the Switzerland-based artists discusses his craft, along with his latest project, The Invisible Dimension.
Via TED:
Swiss artist and photographer Fabian Oefner is on a mission to make eye-catching art from everyday science. In this charming talk, he shows off some recent psychedelic images, including photographs of crystals as they interact with soundwaves. And, in a live demo, he shows what really happens when you mix paint with magnetic liquid—or when you set fire to whiskey.
When we spoke with Oefner about his ferrofluids project, "Millefiori," he told us: "Whenever I start working with a new material or exploring a scientific phenomenon... I just experiment with it. After a bit of time, I come across something that I think could be developed further into a series of images." As he explains in the TED talk it's all part of his goal, "as a photographer [and] as an artist... to bring the world of art and science together."
A most worthy goal, if you ask us; and Oefner seems more than up for the challenge.
[Spotted on boingboing]